Interview
Sarah McNair Landry is a modern day polar adventurer and film-maker. At age 18 she became the youngest person ever to ski to the South Pole. She discusses her life and adventures with Euronews in this interview:
What it's like where you grew up?
I grew up in the Canadian Arctic on Baffin Island, with the Arctic Ocean and a team of dogs in my back yard. With two polar guides as parents, I learnt how to travel the arctic regions at a young age.
Baffin Island is one of the most beautiful places I have explored, and I am proud to still call it home. The fifth largest island in the world, it is home to seven small Inuit settlements.
How did you get involved with dog sledding expeditions?
My parents had a team of huskies, and from an early age I was expected to help raise and care for them. Having dog team is a lot of work, and there are not many who still use dogs on major expeditions. However, it's one of the best ways to travel across the arctic regions.
How would you describe yourself?
I would call myself an adventurer, I explore places that are new to me. Some routes I have taken have never been done before, other expedition retrace past routes.
What draws me to a particular route is not necessarily to be the first ever to travel the area. For example, my latest expedition followed traditional Inuit portage routes, leading us across southern Baffin Island paddling Inuit sea kayaks that we built ourselves.
What draws you to these places?
What draws me to extreme environments is a combination of the challenge, the adventure and the fun. Once you have learnt how to travel comfortably in the arctic, you then notice the beauty of the areas you are traveling through.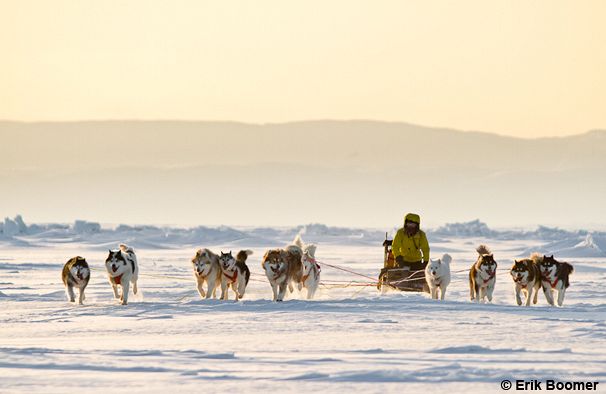 When on expedition, we are putting ourselves into dangerous environments. I take many safety precautions, but there is always a risk. And my biggest fear would be that something happens to my expedition partners or myself.
Tell us about your cinematography
My introduction to film was adventure films, documenting the places I go to, and the adventures that I have. I have since diversified, from a documentary on waste management issues in the north, to my latest, which is an experimental art film.
It's difficult to film in Polar Regions. In the extreme cold, both the cameras and the camera operators do not work very well. It's painfully cold on the figures, battery power is limited, the LCD screen doesn't work properly, not to mention you are limited on time, and always tired.
Never Lose Sight by Sarah McNair-Landry, National Film Board of Canada
What's your message to the next generation?
I want to inspire youth to get outside and get active. Exploration doesn't need to be multi-month expeditions, I just want to encourage youth to get outside and explore their back yard, or the park down the road.
Read more about Sarah McNair-Landry
pittarak.com