Opinion
Giorgio Metta is an explorer in the field of humanoid robotics. The Italian professor is best known for developing the iCub robot platform, a child-like humanoid which has become a key research tool in the field. He is deeply passionate about artificial intelligence, and in this opinion piece argues the case for developing robotic machines which are friendly and autonomous, thereby creating tools that can help us to help ourselves. Metta holds a position as Senior Researcher at IIT in Genoa, is director of the iCub Facility, and Professor of Cognitive Robotics at the University of Plymouth. His main interests are at the intersection of robotics and neuroscience, in particular, with regards to the development of sensorimotor coordination. He has been principal investigator in a dozen EU research projects.
We live in a fantastic period of history in terms of technology. The pace of the digital revolution is ever increasing. 'Moore's law' has been delivering on its promise for decades now. A new stage in evolution is knocking at our door: this is robotics and artificial intelligence, known as AI.
The first signs of what I consider to be the beauty to come are showing up in autonomous cars, automatic trains, rapid 3D printing production methods, robots on Mars, search engines, vision-controlled videogames, smart planning in the airlines industry, and so forth. These are all testimony to the fact that we now can deploy robotics and AI technology to useful applications.
My group at the Istituto Italiano di Tecnologia, or IIT – a public funded endeavor based in Genoa, Italy – has been riding this wave of excitement. We have developed the iCub, an Open Source humanoid robotic platform to facilitate and promote research in robotics and AI.
Specifically we have been concerned with the full design of a platform that can be seen as the precursor for the household assistants of the future. Humanoid in shape, equipped with a unique set of sensors, it can now see, hear, feel the environment, interact with the researchers in simple but natural scenarios, grasp and manipulate objects, stand, balance and take a few steps to reach an object.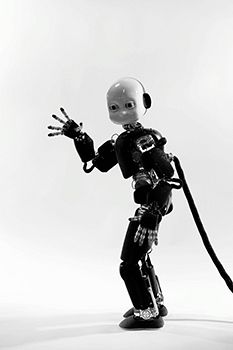 The project started exactly ten years ago with the support of the EU. Rather differently from many other EU projects, it has been successful at attracting more researchers and spawning a legacy well beyond the initial project. Researchers have been joining forces to help the development of the hardware and software of the iCub. We can now count 30 copies of the iCub as far away as Illinois and Japan.
Working with humanoid robots is a challenge. It is a challenge because of the complexity of the robot, its mechatronics, and because there are few shortcuts to be taken: problems are to be solved similarly to how a person would solve them.
What's more, we don't make it easy for the machines. Human users cast unreasonable expectations on the humanoid: if the robot looks a bit like us, then surely it should possess human-like intelligence, performance, and social skills? Much of human intelligence and learning ability relies on the inherent shape of the human body; however we may not be ready to implement such interaction skills on a robot like the iCub.
Whether these amazing machines can or even should meet our expectations of them is an open question, but however you see it, humanoid robotics research is useful on its own right.
Implementing intelligence in a humanoid robot may tell us more about our own learning skills, how our brains grow through the interaction of our body with the social and physical world; how we manage to cognize about a new situation and often take an effective course of action.
Humanoids may serve eventually as testable models of human intelligence. As in many engineering efforts, the machine would eventually tell us something more about the natural world.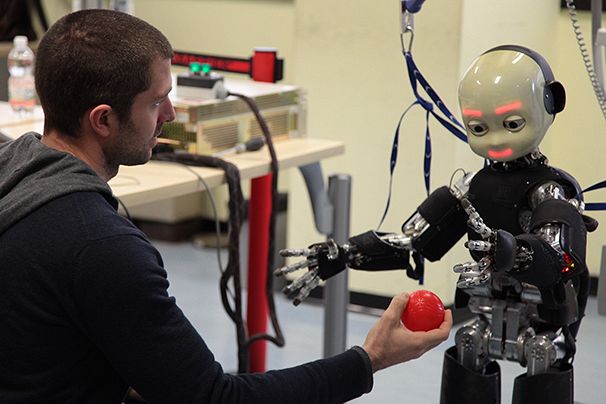 We are exploring here the frontier of several disciplines spanning AI and neuroscience, material sciences and control theory, computer and machine learning to reach a synthesis that will eventually enable the construction of life-like artificial systems; machines which we could describe as friendly and autonomous. Nothing like this exists yet.
The use of the word autonomous here is important, and should be explained. Autonomy, in this context, means that the robot is untethered and self-sufficient in terms of energy supply, but also, and perhaps more importantly, it means the ability to take decisions under limited or possibly minimal human supervision.
The use of the word friendly means that our robots should cooperate safely with humans in a variety of tasks by understanding human behavior and communication.
So autonomy is connected to low energy consumption and artificial intelligence, and being friendly requires instead material compliance and contextual awareness.
Our long-term vision sees robots like the iCub roaming our homes, helping with our daily chores, supporting a better quality of life, especially for the less fortunate segments of the population.
EU Commission studies show that there is not much alternative to counteract the progressive change in population demography which sees an ageing population in many European countries. Exploring this technology means unlocking an evolution of our lives and moving from a labor-intensive society to a more preferable quality-intensive one.
Elsewhere on the web
youtube.com/robotcub
iit.it
icub.org
http://www.robotcub.org
Giorgio Metta