King Juan Carlos of Spain has outlined the reasons behind his decision to abdicate in a live television address to his subjects.
The King said he made up his mind when he turned 76 in January and that it was a decision taken with "great emotion".
He said a new generation must now be at the forefront of Spain. "Younger people with new energies are needed to undertake reforms that the present juncture demands of us," he told the audience and expressed his gratitude to the Spanish people for their support.
Prime Minister Mariano Rajoy made the initial announcement on Monday morning that the King had decided to step aside while the Royal Palace released pictures of his letter of abdication.
Juan Carlos, who is 76, was Spain's first crowned head of state after the death of dictator General Francisco Franco in 1975. He was credited with steering Spain to democracy, and for saving the country from a coup attempt in 1981.
His 46-year-old son Felipe who it's understood will be called Felipe the sixth of Spain will succeed his father.
The Prime Minister, Mariano Rajoy said:
"The King is convinced that this is the best moment for change in the leadership of the state to happen in a normal manner and to transfer the Crown to the Prince of Asturias."
The prime minister paid tribute to the pivotal role Juan Carlos played in the transition to democracy. The king came to the throne after the death of General Franco in November 1975.
But recently his daughter, Princess Cristina, and son-in-law Inaki Urdangarin, have been under investigation in a corruption case.
The king himself was much criticised after going on an expensive safari trip to Africa – this as many people in Spain were suffering economic hardship with a recession and severe austerity measures.
Juan Carlos was at one time one of Europe's most popular monarchs.
He oversaw a radical period of change in Spain, from the end of the fascist era in the mid 1970s to Spain's accession to the EU in 1986.
He also played a pivotal role in calming the situation when there was an attempted coup in 1981, when former military officers from the Franco era took over parliament.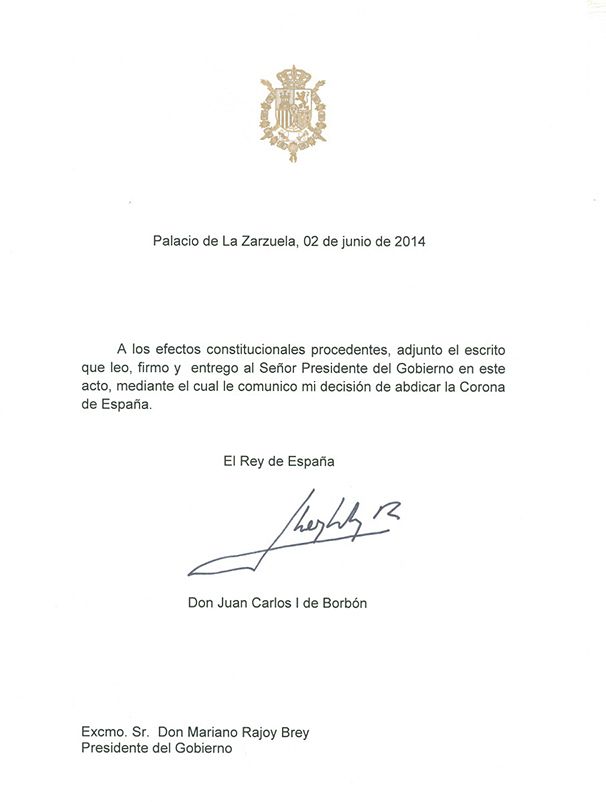 Spanish PM Mariano Rajoy announces King Juan Carlos' abdication (Spanish)
S.M. el Rey Juan Carlos I abdica la Corona de España. http://t.co/s9vbalBzSOpic.twitter.com/YesVxDObIp

— Casa de S.M. el Rey (@CasaReal) 2 Juin 2014
"His majesty, King Juan Carlos, has just communicated to me his will to give up the throne,"Rajoy announced, "I'm convinced this is the best moment for change."
The king's daughter, Princess Cristina, and her husband, Inaki Urdangarin, are under investigation in a corruption case, Reuters reports.
The king, whose health is failing and has had a number of hip operations in recent years, is stepping down for personal reasons, Rajoy said.
(with Reuters)