War of words: UK divided over how to commemorate WW1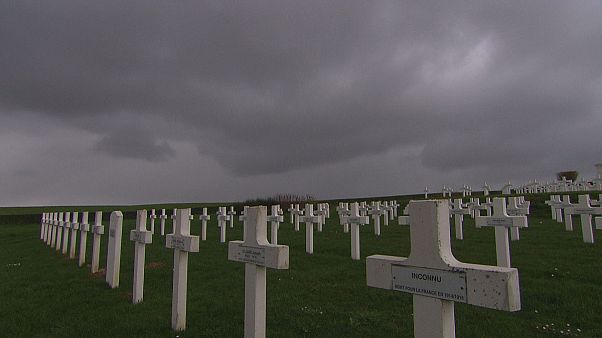 On the battle-scarred fields of the Somme, teenagers from a school in central England follow in the footsteps of their great-grandfathers in the trenches of the Somme.
Mick Biegel shows the youngsters around what is now hallowed ground. The memorials reveal the full horror of the Somme. In just a few hours on July 1 1916 some 20,000 British soldiers died here.
Before becoming a battlefield tour guide, Mick was a soldier, serving with the British army in Northern Ireland and Sarajevo. Now he passes on the memory of World War One to today's generation. But is it commemorating a bloody nightmare or celebrating glory and victory?
"It is too easy to be "macho", to think it is glorious, to think it is triumphant and that it is nothing you need to worry about today," Biegel said. "This is not ancient history! Could it happen again? I suppose it could."
Celebration or commemoration? It is a poignant debate gripping the UK.
In Cambridge Professor Richard Evans, a leading British historian believes that with euro-scepticism on the the rise ahead of European elections some politicians are engaging in "tub-thumbing jingoism". World War One, he asserts, should not be characterised simply as a "just war", or a "fight for democracy".
"The Education Secretary, Mr Michael Gove, has said, this is a struggle between left and right. And the conservatives want a patriotic celebration of the British victory in the first World War. And he has accused some historians, including me, of undermining the memory of the brave troops that have fought on the western front. But if you look on the war on a more general scale way you see that it is a catastrophe. It facilitates the rise of fascism, racism and it makes antisemitism much more popular and much more extreme in Europe,"
he argued.
Euro-sceptics like journalist, author and military historian Max Hastings take another view. He has attacked London and Paris for "not saying anything that might upset Germany". In a newspaper article he has accused Prime Minister David Cameron of "sucking up to the Germans", adding that that was "no way to remember our Great War heroes".
"It would be a mistake to allow this centenary to pass by simply by commemorating the horror of what happened without trying to tell the new generation why it happened," Hastings told euronews.
"No one nation deserves to be blamed for all what happened in 1914 but it seems to me that Germany deserves more than most because Germany was the one nation that had the power to stop it. The one theory about WW1 that I believe is quite unacceptable is that it was an accident," he added
The visit to the Somme by the girls of Westonbirt School is about much more than learning historical facts and figures. Through role-play the students get into the mindset of kings, politicians and generals. They simulate the momentous decision-making that took place and re-live the diplomatic deadlock of the era.
So what lessons can be learned from the disaster of World War One? Admiral Alan West, the former head of Britain's Royal Navy, served in the Falklands and Iraq Wars and was a security minister in the previous Labour government. We ask him what went wrong in 1914?
"People are willing to embark on wars thinking they will be little, thinking they will be quick and this is extremely dangerous," West said.
"Once you embark on a war, politicians and politics, they lose control. Politicians think they can control wars – you cannot control wars."
London's National Portrait Gallery is currently staging an exhibition called "The Great War in Portraits'. It is also running projects such as 'National Memory – Local Stories', in which teenagers commemorate the First World War through artwork.
Schools from around all over the country joined in the 'Local Stories' project. While some of the youngsters researched their own family history, others trawled through local archives. Using a range of sources they transformed their discoveries into art.
Joshua Cross, from Avon Valley College, was among the contributors. "We got all the diaries out and everything. We looked through the diaries and one of the diaries held a postcard within it, a postcard which was with the soldier… so I was focusing on how strong the impact was of messages home and how the postcard died with the soldier," Cross explained.
The British government sought to change how history is taught in schools, with some claiming there was a nationalistic motive to its intended overhaul of the curriculum.
That was the view of Cambridge historian Richard Evans.
"The Conservative education minister, Michael Gove, thinks this (the History curriculum) is the product of a left-wing establishment. So as far as history is concerned he tried to replace it (the curriculum) with one which is going to force British students to learn a patriotic narrative of British victories through the ages," said Evans.
Across the UK, historians and teachers protested, arguing that children were not empty vessels to be filled with patriotic myths. The UK government had to modify its reform plans and the broad-based approach survived.
From whatever perspective you take, there is no doubting Britain's commitment to commemorating the first World War. The government is spending 60 million euros to mark the centenary. Germany is spending a modest five million euros.
Sir Richard John Evans, Regius Professor of History at the University of Cambridge and President of Wolfson College, sets out his position in the UK debate on WW1. To listen to the full interview (English language), please use this link.
Bonus interview: Sir Richard John Evans
Sir Max Hastings, military historian and Pritzker Military Library Literature Award Winner outlines his view to euronews on WW1. To listen to the full interview (English language), please click here.
Bonus interview: Sir Max Hastings
To listen to the full length interview with Admiral Lord West (English language), please use this link. Alan William John West, former First Sea Lord of the Royal Navy, gives his opinion about the crisis in Ukraine today and looks back on WW1.
Bonus interview: Admiral Lord West