Solar powered plane aims for the edge of space
Comments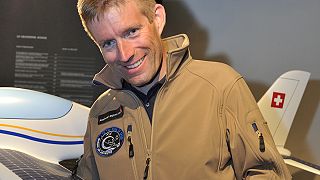 Raphaël Domjan is aiming his aircraft at the edge of space. The Swiss pilot is pioneering a new kind of high altitude flight using nothing but the power of the Sun, and he's going to have a spare seat on board to share the experience with paying passengers.
Domjan spoke to Euronews about his project, which is known as Solar Stratos. He began by describing the flight: "Basically we're going to fly a solar aircraft to a record-breaking altitude of 80,000 feet, or just under 25,000 metres. At that altitude the daytime sky above is black and filled with stars, and it's all blue below".
The plane they will build is an adaptation of a PC Aero single seat electrically-powered aircraft. The Solar Stratos version will be lighter, and importantly, it will have two seats.
Once we have undergone all the necessary test flights then the other seat in the aircraft will be available to passengers, says Domjan. We're going to invite a few celebrities, maybe some journalists, and any member of the public who passes the fitness examination will be able to fly with us. Tickets to see the curvature of the Earth and the blackness of space above are projected to be 50,000 euros.
There are many issues and questions yet to be resolved. Domjan may be a highly experienced pilot, but he's yet to fly a solar-powered electric aircraft, and will do so this summer.
The other big issue is what to wear. We can't pressurize the cockpit and at that altitude it's minus 70 degrees so the pilot would just die in a normal flight suit, Domjan says. So we're in talks with a company that makes spacesuits – there are just a handful of them in the world – in order to create a lightweight spacesuit that doesn't use much energy. It'll be the world's first solar-powered space suit, he explains.
It's a considerable technical challenge to create such a suit, but the Solar Stratos team believes that the commercial opportunities of developing such a suit are considerable in the light of moves towards longer-duration spaceflight and the development of space tourism.
Being Swiss and flying a solar-powered aircraft does bring inevitable comparisons with Solar Impulse, the long-distance solar plane pioneered by Swiss adventurer Bertrand Piccard. I know Bertrand quite well, says Domjan, and there are differences between what we're proposing. We're going for an altitude record, whereas their flights are about distance travelled. Also our project has commercial objectives.
Domjan is well known in the nautical world for his solar-powered boat, the PlanetSolar, which completed the first circumnavigation of the globe in 2012 without using a drop of fossil fuel.
The main lessons he brings from that project are in management. You know, making one of these projects successful is all about getting the right people and getting the right financing in place. And that's what I learned about with PlanetSolar, once you have the money in place you can do anything.