The Ukraine Hotel in Kyiv has been turned into a temporary hospital and morgue on a day when dozens of people have died.
The hotel is situated on the edge of the city's Independence Square, known as Maidan, and occupied by protesters since November. The square has been the scene of some of the fiercest battles with riot police.
Thursday was the worst day of violence the city has seen since the protests began three months ago, with dozens of people including some police officers killed.
The lobby of Ukraine hotel was converted into a jhospital: https://t.co/vlvsGuc5Dv |PR News #euromaidanpic.twitter.com/oR0naIpfga

— Euromaidan PR (@EuromaidanPR) February 21, 2014
On one side of the hotel lobby, dead bodies were laid out. On the other, doctors battled to save the living.
Medical staff said the shooting was clearly a professional job.
"We have twelve killed people, all of them were shot by very professional snipers. They were shot directly at their heart, sometime through their back, sometime in front. And some of them were shot into coronary arteries," said Olha Bogomolets, doctor and coordinator of the hotel's medical centre.
Euromaidan morgue at the Hotel Ukraine pic.twitter.com/i0Dw1OUPEs

— ЄВРОМАЙДАН (@euromaidan) February 20, 2014
The aunt of one of the victims described how her nephew had died: "a bullet got my nephew in the heart and flew out by the shoulders. He is lying in blood there on the cold ground," she said.
On Thursday evening, the corpses were carried out of the hotel as staff sang the national anthem.
Gruesome scenes in Hotel Ukraine lobby. Injured protesters being treated. Many running into hotel. #Kievpic.twitter.com/19qswohs1x

— Duncan Crawford (@_DuncanC) February 20, 2014
Euronews correspondent in Kyiv, Sergio Cantone, says some of the injured are being transferred overnight to the west of Ukraine, to Lviv or Ternopil, driven in cars by doctors and volunteers.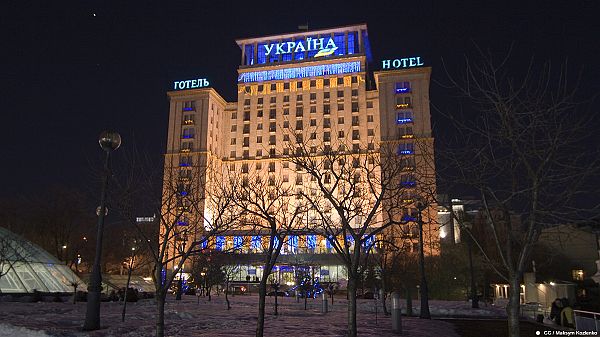 Ukraine Hotel, 31 December 2012
French news agency AFP has posted on Twitter a photo comparing two pictures of Independence Square, one taken in 2009 and the other on 20th February, 2013.
Kiev's Independence Square in 2009 -- and yesterday pic.twitter.com/L6zh4xNREc

— Agence France-Presse (@AFP) February 21, 2014