The International Monetary Fund has lifted its forecasts for world economic growth, but warned the recovery is still weak and uneven.
In an update to its World Economic Outlook (WEO) the IMF predicted 3.7 percent global economic growth this year, 0.1 percentage point higher than its October projections, and sees growth of 3.9 percent in 2015.
The IMF's chief economist Olivier Blanchard said it is stronger in the US than in Europe and while the eurozone is turning the corner from recession to recovery Southern Europe continues to be "the more worrisome part of the world economy".
For the euro area the WEO sees 1.0 percent growth this year, rising to 1.4 percent in 2015. The United States is set for 2.8 percent expansion this year and only slightly higher at 3.0 percent in 2015.
Japan is forecast to grow 1.7 percent this year, but only 1.0 percent in 2015. Tokyo launched an ambitious economic programme last year to shock the economy of out of nearly two decades of deflation.
Among the largest emerging economies, the Fund forecast that China will grow 7.5 percent this year, India 5.4 percent, Russia 2.0 percent and Brazil 2.3 percent.
Overall its outlook was unchanged for the developing world on the basis that higher exports to rich nations would be offset by weak demand at home.
The IMF urged central banks to avoid raising interest rates too soon while growth remains fragile, and called on the European Central Bank in particular to help sluggish demand by boosting credit growth.
In Europe, Britain is the star of the revised World Economic Outlook; its upgrade for 2014 – to 2.4 percent – is stronger than any other country.
Amid cheap credit and greater confidence, its forecast for UK growth was raised from 1.9 percent in October.
Around the eurozone only Spain was given a significant upgrade from the previous growth estimate last October. Its GDP is expected to rise by 0.6 percent in 2014 and 0.8 percent next year.
Germany – the largest eurozone economy – is forecast to expand by 1.6 percent this year and 1.4 percent in 2015.
For France the growth prediction is just 0.9 percent in 2014 due to policy uncertainty. That is supposed to rise to 1.5 percent in 2015.
Very low inflation in the eurozone was flagged up as a risk to economic activity, and the IMF voiced concern about as rich nations growing below their full capacity leading to the kind of problems that Japan has struggled with for 20 years.
A falling spiral of prices would weaken demand by making cash more valuable over time, discouraging consumption. It also increases the value of debt, a big problem for highly indebted places like the United States and the eurozone.
"The lower the inflation rate, and … the larger the deflation rate, the more dangerous it is for the euro recovery," IMF chief economist Olivier Blanchard said.
Europe, the US and Japan are all wrestling with uncomfortably low inflation, along with persistently high unemployment, which has forced their central banks to continue strong stimulus programmes.
Blanchard said unemployment "remains much too high" in most advanced economies.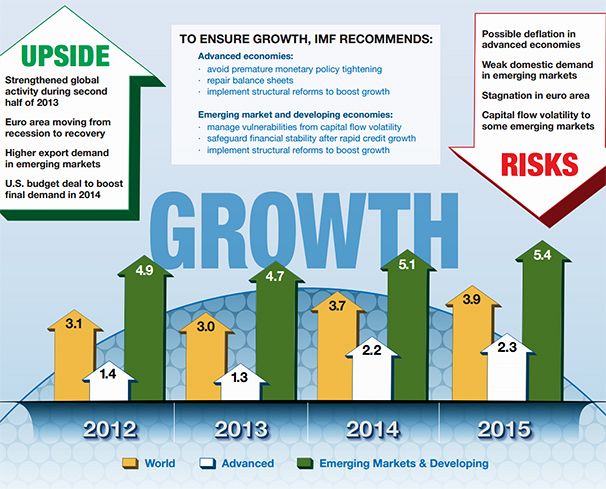 Infographic: www.imf.org