At the age of 80, French photographer Hugues Vassal is still intent on paying homage to his muse, Edith Piaf.
To mark the fiftieth anniversary of the iconic singer's death, he has opened an exhibition on her last ten years in the French city of Tours. Vassal started his career as Piaf's official photographer and became her close friend and confidant.
As such, he witnessed key moments in her life. Commenting on a photograph of her and singer-songwriter Georges Moustaki, he said:
"This is in 1960. She was getting ready for a show at the Olympia music hall, she was rehearsing Milord. Here, you see Georges Moustaki at the piano and she is singing Milord. Rehearsals went on and on, sometimes up to midnight or two in the morning."
Piaf was not only famous for her singing but also for her rich love-life. The artist had a string of lovers, many of whom were also singers or composers.
"When she was together with Felix Marten, I once saw her knitting. She said, I am knitting for Felix. On another occasion, I saw her knitting again. She said, I am knitting for Georges Moustaki. Later, she was knitting for the singer Charles Dumont. But I never saw any of the sweaters finished, as she had usually moved on to another lover before she'd finished the knitting," said Vassal, with a smile.
Towards the end of her life, Piaf surprised everyone by marrying Theo Sarapo, a young Greek man, twenty years her junior. Once again, Hugues Vassal was there to immortalise the event. Looking at a photo of Piaf and her young husband walking in a park, he said:
"This is a very moving picture for me because Edith passed away six months later. She had just come back from tour, and she was
fading, going out like a candle. She was walking in the park, and she turned to me and said 'goodbye'."
It was Piaf's impressive voice which saved her from poverty and from the streets. At the age of 20, she started performing at a cabaret in Paris and her career took off. Her shows at the Olympia were sold out. And when the director of the music-hall came and asked for her help in 1960, she was there for him.
"He said: 'Edith, Edith, help me, I am going to have to shut down the Olympia, the banks have pulled out, I am ruined.' Edith looked at him and there was a moment's suspense before she said, with a smile, 'Come on, listen, your Olympia is saved!'. And she performed "Non, je ne regrette rien". She sang that song for three months running, without getting paid, and the Olympia was saved," said Vassal.
In return, the stage often saved Edith Piaf from depression, helping her through the hardest times like when her daughter died, or later when the love of her life, boxer Marcel Cerdan, passed away.
Piaf fell seriously ill and died in October 1963. Two million people took part in her funeral in Paris.
"There was a huge crowd," said Vassal. "At the graveyard, the whole team was there, following our boss, our mother, the soul of our lives – each of us shared our own little secret with Piaf – and I said to my friend Jean Noli, 'Look, she's sold out, again.'"
In all, Hughes Vassal took some 10.000 photos of Piaf. He went on to travel the world as a photographer and set up the prestigious Gamma photo agency with Raymond Depardon and others.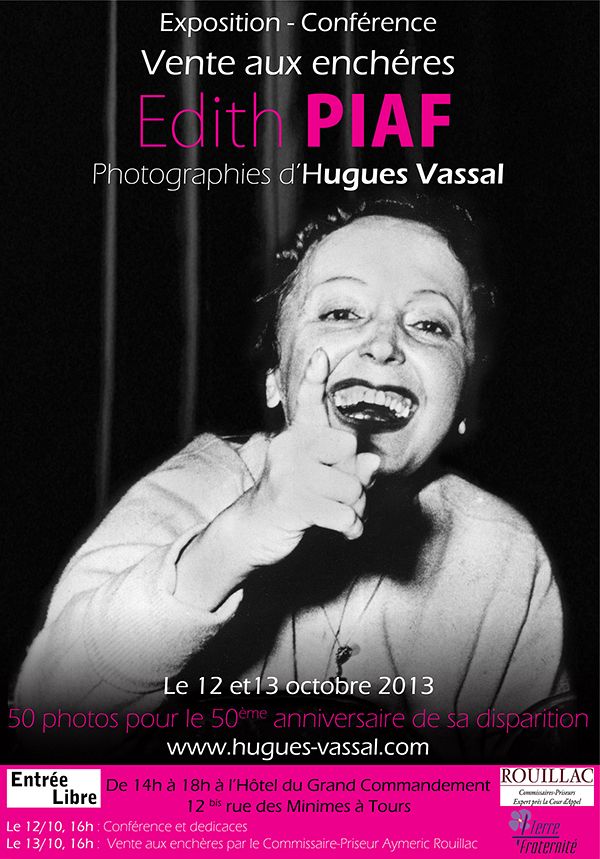 - The exhibition "Edith Piaf: 50 photos pour le 50ème anniversaire de sa disparition" is on at the Hôtel du Grand Commandement in Tours on October 11, 12 and 13 2013. Some of the photographs will be auctioned on Sunday, October 13.
- The book "Edith Piaf une vie en noir et blanc" by Hugues Vassal is out now.