Rapping parish priest hopes to modernise church in Hungary
Comments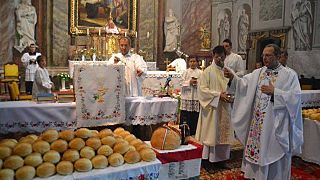 What is the best way to reach out to youngsters, to encourage them to go to church and to live a Catholic life? Parish priest Zsolt Kövesdy from Kunszentmárton, Hungary, has an idea. He is planning to start a radio show playing rap and hip-hop music.
The station would, obviously, avoid music containing swearing and inappropriate topics, but his plan is to offer honest words and thoughts about life and the world. Kövesdy believes that the Catholic Church can only reach young people if it modernises its methods and he believes a social radio with modern music and interactive talk-shows could be a good solution.
He is already very popular in his parish having organised a range of activities including horse and cart rides and climbing. According to a Hungarian newspaper he even made a skateboard track and let the children use their boards in the church's courtyard.
Teenagers and young people go to him for long conversations about life and even about sex. Topics they feel they cannot talk about with their parents.
"I do not want to break the borders of religion, I want to widen them. Adults who are popular among youngsters speak their language and are capable of talking about topics which interest them, for example sports and music. That is what I try to do, too," says Zsolt Kövesdy.
His social radio will start broadcasting next spring from, where else, but the church's tower.
Kövesdy added, "Before World War II Kunszentmárton's parish priest went up to the tower every hour and shouted: Praise be Jesus Christ! The people in the street lifted their hats and said: Forever, Amen! The idea is the same just in a modern way. The aim is also the same: to turn faces towards the church."