OECD upbeat on Europe's recovery

There was some good growth news for Europe, less so for China, the United States and elsewhere.
In its latest forecast the Organisation for Economic Cooperation and Development said the bigger eurozone economies and Britain are at last joining the recovery.
But, a slowdown in many emerging economies means global growth will remain sluggish:
The OECD's Deputy Chief Economist, Jorgen Elmeskov, said: "What we see is continued pretty mediocre growth for the world as a whole.The message is a little bit more optimistic but it's not really a sort of 'hats in the air' kind of message. It's a little better than what we had been used to in the past but then, in the past, we hadn't been used to a lot of good news."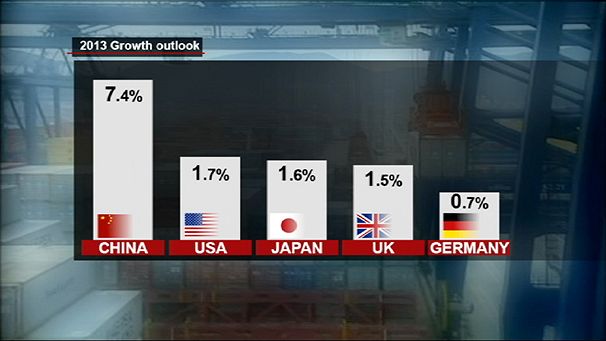 China's growth outlook for this year is cut from 7.8 to 7.4 percent, the US from 1.9 percent to 1.7 pecent, Japan is unchanged from the OECD's May forecast at 1.6 percent, but Britain and Europe's biggest economy, Germany, both get sharp increases in growth predictions.
Germany was set to grow 0.7 percent, up from 0.4 percent previously.
Outside the eurozone, Britain was predicted growing 1.5 percent, from a forecast of 0.8 percent in May.
Some of the best news was for France which is seen on course for growth of 0.3 percent this year, instead of the earlier prediction of 0.3 percent contraction.
Despite the optimistic projections, the OECD thinks the European Central Bank should be ready to cut interest rates further, if the eurozone recovery starts to falter.
It said the ECB may need to do more to increase sluggish lending such as "providing direct incentives to banks to extend credit to the real economy".
The OECD also recommends the most indebted eurozone countries should increase their efforts to boost competitiveness.