The Egyptian presidency has declared that diplomatic efforts to end the country's political crisis have failed.
Earlier, two US senators on a mediation mission gave pessimistic accounts of the situation, with one warning Egypt could be "days from bloodshed".
The presidency says it holds the Muslim Brotherhood responsible for the diplomatic failure.
The American senators John McCain and Lindsey Graham had called for talks between the army-installed government and the Brotherhood, and for the release of political prisoners.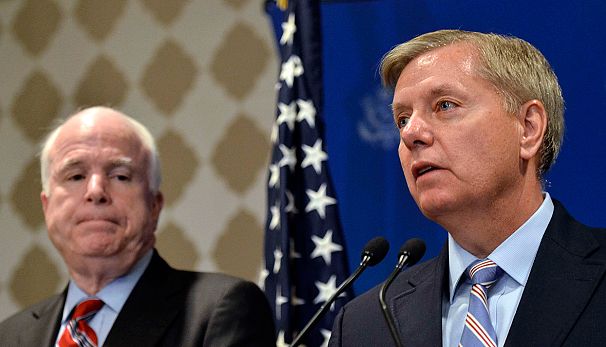 The politicians also angered the army-installed government by describing the overthrow of former President Mursi as a "coup".
The country's first freely-elected president is being held at an undisclosed location and thousands of his supporters remain camped out in Cairo.
Despite the Muslim Brotherhood's call for peaceful protests, the presidency accuses it of breaking laws and endangering public safety.
The military has threatened to end the sit-ins by force.
In spite of the presidency's announcement, the European Union has vowed to continue its diplomatic efforts.
Michael Mann, a spokesman for EU foreign policy chief Catherine Ashton, said he was unaware of the Egyptian presidency statement but that the EU's envoy, Bernardino Leon, had been in Egypt for several days engaged in mediation efforts.
"We will continue to do all we can to try and encourage people to get this inclusive dialogue going, that is so important to see a return to the democratic transition in Egypt. We will continue our efforts." he told reporters.