Two trains collided head-on in Switzerland late on Monday, injuring 26 people and killing the driver of one, police said.
The driver's body was recovered overnight from the wreckage of the crash at Granges-près-Marnand in the canton of Vaud, police spokesman Jean-Christophe Sauterel said.
One of the injured was taken by helicopter to Lausanne. Others were treated at the scene by paramedics or taken to hospital by ambulance.
Police said 46 people were on the two trains, one of which was heading to Lausanne, the other was going to Payerne.
The crash occured shortly before 7.00 p.m. local time on a regional line about 50 kilometres southwest of the capital, Bern. The police said it was too early to try to ascertain the cause.
Switzerland's rail system is considered among the best and safest in the world. Accidents are rare, though three years ago the country's popular Glacier Express tourist train derailed in the Alps, killing one person and injuring 42.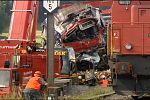 Driver error was probable cause of Swiss rail crash, say police