The story of the impact of Italian architecture in Russia has been well documented. For Russian and Italian speakers, I strongly recommend the book "Mille Anni di Architettura Italiana in Russia" (A Thousand Years of Italian Architecture in Russia) which can be found o the website of the Italian embassy in Moscow. Federica and Dmitry, who I spoke to in my report, contributed to it. The construction of the Kremlin is just a small example of the Italian impact on Russian architecture. Italians were worked before Ivan III and after him, in cities including Moscow, Vladimir, and Saint Petersburg.
When we were filming in the Kremlin I asked some foreign tourists who they thought had designed the cathedrals. Some people said they didn't know, others were sure that the architects were Russian. I would therefore encourage anyone who visits the Kremlin to look closely at the details. The entrance doors of the Cathedral of the Archangel, for example.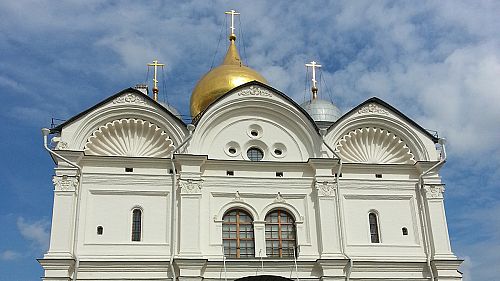 There are the birds, flowers, and vases which are the traditional symbols which were re-discovered and used during the Renaissance in Italy. Incidentally, this cathedral was originally red and white, colours which have since been widely used in Russia.
Another interesting detail is that Saint Basil's Cathedral on Red Square actually has another name – The Cathedral of the Protecting Veil of the Mother of God.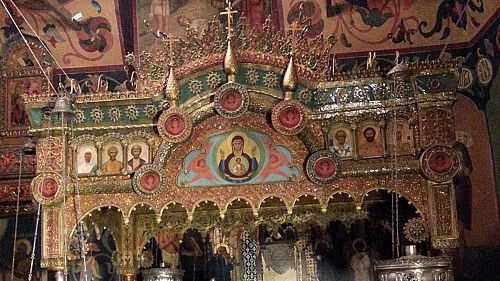 Originally there were only nine churches on the site but another small church was added later on, dedicated to a holy fool called Basil who was reputed to perform miracles. The church was constructed to commemorate his death and prayers were said in it every day. The other churches were so cold that it was only possible to use them in the summer. So the Muscovites who went to say their daily prayers used to say they were going to Saint Basil, and in time the name became used for the cathedral in general.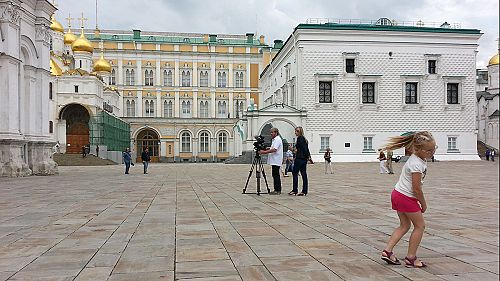 When we were filming there, we experienced our own small miracle. The day before the shoot the forecasters were predicting heavy rain, which is not ideal for filming architecture, especially when you want to show it at its most beautiful. But during the shoot, not a single drop of rain fell on the square. So I hope you will enjoy the pictures and travel back in time to the Russian renaissance.