Google maps out the fictional world of Harry Potter
Comments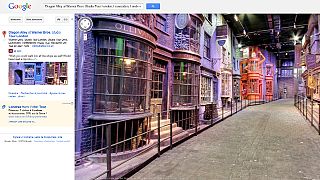 The world of Harry Potter is now much more than an imaginary place: Diagon Alley is now accessible to even us simple Muggles. Virtually.
Google has, effectively, mapped out the principal road of J.K. Rowling's witches and wizards.
Diagon Alley, accessible by the Leaky Cauldron is a fictional shopping street said to be situated in London. The witches and wizards of the Harry Potter series go there to buy owls, flying broomsticks and magic wands. They also buy sweets and the other more quirky objects associated with the world of sorcery.
This road also houses Gringott's, a bank managed by goblins. In addition, there is a shop selling accessories for the legendary sport Quidditch, enjoyed by the students at Hogwarts, as well as many bookshops and other shops.
If the virtual visit gives you the desire to discover the real world of Harry Potter, this is also a possibility.
Diagon Alley is housed, along with the other props from this magical world, in the Warner Bros. Studios, London.
The studio visit enables you to go behind the scenes and to discover the sets of the series. It will open the doors of Dumbledore's office and reveal various memorable objects, such as Harry's Nimbus 2000 and Hagrid's motorbike.