The day after Mohamed Mursi's ouster as president of Egypt, with the powerful army taking the reins to initiate a more pluralist transition, our correspondent in Cairo, Mohammed Shaikibrahim, spoke with Mohamed al-Beltagy, the general secretary of the Freedom and Justice Party, which is the political arm of the dominant Islamist Muslim Brotherhood in Egypt.
Mohammed Shaikibrahim, euronews: "What is your reading today of the Military Council's declaration?"
Mohammed al-Beltagy: "It is a military coup without legitimacy. It is a burial of Egypt's first democratic experience. It is a coup against the president who was freely and directly elected by the Egyptian people."
euronews: "What is your next step, in the wake of the announcement?"
Al-Beltagy: "A coup can not be accepted under any circumstances. It is not only a coup against the president as an individual, but a coup against the will of the people and the constitution that was chosen by the people and against the democratic experience initiated by the Egyptian people."
euronews: "What is the fate of Mohamed Mursi right now."
Al-Beltagy: "What we know he is under house arrest; so is the presidential team. I think the list of arrests could reach thousands, because we're talking about a regime that has revealed its true face. This regime doesn't aim to create a state of conciliation; it generates more division in the Egyptian society, as we have seen in the latest clashes."
Euronews Cairo correspondent Mohamed Shaikhibrahim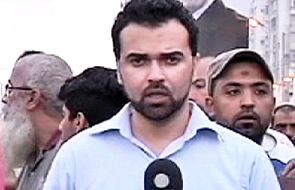 "After several attempts to enter the square where the Muslim Brotherhood supporters were protesting, in an area of Cairo called Rabea Adaweya, we finally managed after taking small back streets and alleys and bypassing the barriers of the Egyptian army, which had put tanks at the entrances and exits of the square. It was four o'clock in the morning by the time we had got there.
"The Egyptian army was preventing anybody from getting in or out of the square, and some demonstrators there, some of whom were wounded, told us that they been attacked twice during the night by unknown people who opened fire on them. They told us that the Egyptian army was arresting any protester trying to leave the square on to go home; some leaders of the Muslim Brotherhood were present in the square, and they got protection from the demonstrators when the army began looking for them. So they appear to consider the square as a shelter.
"The protesters welcomed me, and told me that Euronews was the first channel to penetrate the security barriers and get access to the area; they asked us to show clearly to our viewers what's going in, to show the fact they are still there, and to show they are surrounded by the army, that they are forbidden from communicating with the outside world after the Egyptian army shut off all the Muslims Brotherhood's TV channels. The pro-government protesters in the square appeared extremely fatigued, they say due lack of sleep. There was also a look of extreme sadness on their faces because of the departure of Mursi. We saw many people crying and asking the God to help them."