No records were broken in this year's air show but the final balance of the Bourget this year is still remarkable from a commercial point of view. We should, however, distinguish firm orders for new airliners (such as the 20 Airbus A380s, purchased from leasing company Doric Asset Finances) from other unconfirmed orders and orders that were completed before the event. For example, easyJet has made a preliminary order for 135 Airbus 320s, whereas Air France-KLM's order of 25 A350-900s and Ryanair's 175 Boeing 737-800s were both arranged before the event.
The figures show an excellent performance for the two aviation giants, with Airbus outselling Boeing, but not by a long way. European manufacturer Airbus has sold 241 aircraft with a value of €29.8 billion. If you also consider all unconfirmed orders the total rises to 466 aircraft and €52.1 billion.
On the other hand, American manufacturer Boeing has made €28.8 billion, which becomes €45.7 billion if all unconfirmed orders are included.
It should be taken into account that the above values refer to the catalogue price of an aircraft. All the companies negotiate large discounts that can reach up to 60 percent off the official price.
Airbus has received major orders for the -1000 version of the A350, a direct competitor of the Boeing B777X, an industrial project officially launched at the Bourget.
This year the Bourget was also important for other manufacturers. In particular the European ATR, which beat its own record, selling 173 aircraft for more than €3 billion. It also went well for Brazilian competitor Embraer, which has launched a new family of jets known as the E2 (from 70 to 130 seats). Embraer pulled off 365 confirmed and unconfirmed orders.
The hardest hit was Canadian Bombardier, whose new C-series – which is about to make its first flight – was dropped by easyJet following negotiations.
The Paris air show 2013 will also be remembered for the flight of the A400M, the military transport Airbus that was finally ready for delivery to the armed forces. It was on board this aircraft that French President François Hollande landed at Le Bourget on Friday 21. During his visit to the event, the Airbus A350XWB impressed crowds with a flyby, exactly one week after its first flight certification.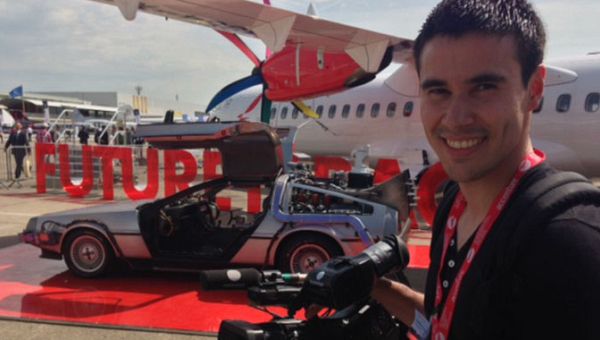 euronews' cameraman Bastien in front of the DeLorean "Back to the future" car in the ATR static display.