According to the UN's refugee agency (UNHCR) the number of people currently in situations of displacement has hit 45 million, the highest figure for 14 years. The worrying news was announced just a day before World Refugee Day, which is held annually on June 20th.
The commemorative day was designed to draw international attention to the increasingly desperate situation faced by displaced people across the globe and to honour the determination of the affected people and those working to help them.
According to UNHCR these new figures include 15.4 million internationally displaced refugees and 937,000 asylum seekers, as well as 28.8 million people forced to flee their homes within their own countries.
As many as 55% of these refugees come from only five countries: Afghanistan, Somalia, Iraq, Syria and Sudan. Although the UNHCR also mentions significant new displacement from Mali and Sudan.
António Guterres, UN High Commissioner for Refugees and head of UNHCR announced: "These truly are alarming numbers. They reflect individual suffering on a huge scale and they reflect the difficulties of the international community in preventing conflicts and promoting timely solutions for them."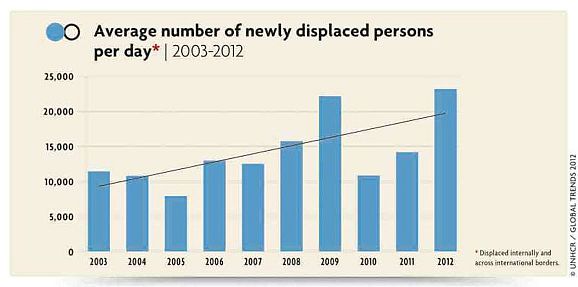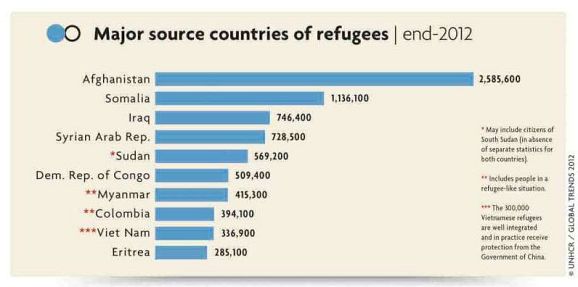 Syria
The prolonged and bloody civil war in Syria has played a huge part in these increased numbers, with more than 1.6 million refugees created by the conflict. Worryingly for the Syrian people and humanitarian aid workers, the situation seems unlikely to improve quickly.
The UNHCR has even reported that in the last year more than 50,000 Iraqi people, who had fled to Syria some years ago to escape the violence, are being forced to return to their home country despite the ongoing instability and volatility of the region.
In Jordan, work has begun on a new refugee camp site, soon to be home to 130,000 Syrian refugees. NGOWorld Vision has said it is in a "race against the clock" to lay seven miles of piping and dig 2,600 septic tanks as the other refugee camp in Jordan, Za'atari, which now houses 100,000 refugees, is at bursting point.
At the recent G8 summit international leaders announced a $1.5 billion donation in humanitarian aid to victims of the Syrian conflict. Aid agencies must be hoping this help will arrive soon, as Jordan, Lebanon and Turkey struggle to deal with the sheer quantity of people.
Angelina Jolie visits Syrian refugees
(All photos courtesy of UNHCR)