Texas is moving closer to an unflattering jubilee: the 500th execution since the death penalty was reinstated in 1976 – barring any last-minute stays or reprieves. This Wednesday, June 12, Texas will execute its 499th person, and execution no. 500 is scheduled for June 26. Texas uses the death penalty more than any other state, and the competition does not even come close.
No. 2 on the execution list is Virginia, which has killed 110 people – and only five since 2010. Texas has executed more people than the next six states (Virginia, Oklahoma, Florida, Missouri, Alabama and Georgia) combined. It wasn't always so. Texas executed fewer than 10 people a year until 1992, when executions spiked under then-Governor Ann Richards. They peaked under George W. Bush, who sent 37 people to the death chamber in 1997 and 40 in 2000.
Recent research suggests that Texans put to death are disproportionately African-American. The Texas Coalition to Abolish the Death Penalty campaign group claims that "the race of both the offender and victim, as well as social and economic status, play a large part in deciding who lives and who dies".
Waiting to be executed on June 12 is Ellroy Chester. A jury condemned him after he pleaded guilty to the 1998 fatal shooting of a Port Arthur firefighter who was slain after arriving at his sister's home during a robbery.
On February 6, 1998, in Port Arthur, Chester broke into the residence of Kim Ryman Deleon. Chester raped her 14-year-old and 16-year-old daughters. Willie Ryman III (uncle to the girls) entered the home. Chester shot him dead. He then helped himself to jewellery before fleeing the scene.
While in police custody, Chester confessed to this crime, two other murders, and three attempts to commit capital murder. Chester stated that he committed these offences because he was out his mind "with hate for white people." There'd been a disagreement with a white staff member over a disciplinary report during a previous incarceration.
Chester's lawyers argued on appeal that he is ineligible for execution because he is mentally impaired, but a divided federal appeals court upheld the sentence. Chester's previous execution date of April 24, 2013, was delayed by the trial court in response to a motion he filed.
Americans' support for the death penalty as punishment for murder has levelled off in recent years after several years in which support appeared to be falling. Sixty-three percent now favour the death penalty as the punishment for murder, similar to 61% in 2011 and 64% in 2010, according to polls conducted by Gallup.
Gallup first asked Americans for their views on the death penalty using this question in 1936, and has asked it at least once a year since 1999.
Although views on the death penalty have been fairly static since 2010, support had been on the wane since the high point in 1994, when approval was 80%. By 2001, roughly two-thirds were in favour, and since then it has edged closer to 60%.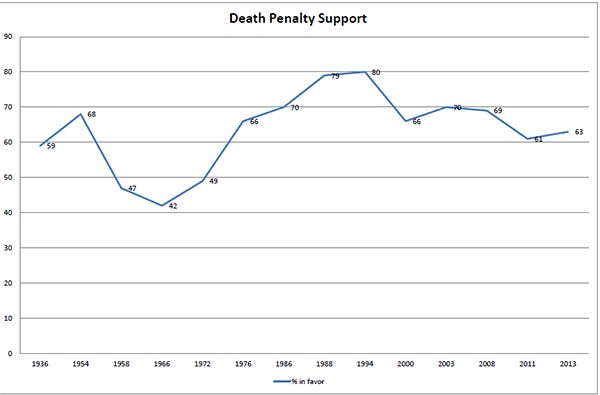 Since the Boston bombings, the numbers have nudged up a bit. The majority or at least plurality of most demographic and political groups is in broad agreement about supporting the death penalty as punishment for murder.
One exception to that is adults who describe their political views as "liberal." Just under half of liberals, 47%, favour the death penalty, while 50% oppose it. However, most conservatives and moderates support it, as do majorities of all party groups, including 51% of Democrats. Additionally, non-whites are closely divided on the issue, with 49% in favour and 45% opposed. That contrasts with whites, among whom 68% are in favour.
Despite the moral nature of the death penalty as a political issue, with teachings on it differing among the various faiths, Gallup finds virtually no difference in support on the basis of respondents' religious background. Two-thirds of Protestants and Catholics, alike, are in favour of the death penalty as a punishment for murder, as are at least six in 10 adults regardless of whether they attend church weekly, monthly, or less often. Only among those who say they have no religious preference, which would include atheists and agnostics, is there a difference, with a slightly smaller 56% in favour of the death penalty.
There are, however, sharp differences in views about capital punishment with regards to gun ownership. Those who report personally owning a gun are much more likely than those who do not have a gun to favour the death penalty: 80% vs. 55%.
Useful links:
Death Penalty Information Center (USA)
Amnesty International on the death penalty in the USA
Texas Coalition to Abolish the Death Penalty
ByDr. Stefan Grobe
Washington Correspondent