French air traffic controllers began a three-day strike on Tuesday, forcing hundreds of flight cancellations across the country in a protest against plans to liberalise civil airspace. Workers are concerned that European Union plans for a "Single European Sky" will have negative effects on their working conditions.
The European Commission estimates that inefficiencies in air traffic management add 42km to the average flight. It wants to centralise air traffic controls, merging national systems into nine Functional Airspace Blocks. However, France's main controllers' union says the plans constitute "a direct attack on the public service nature of this sector" and are the beginning of privatisation.
Around 1,800 flights were cancelled out of about 7,650 scheduled for Tuesday, France's DGAC aviation authority said. However, fewer flights were affected than its initial estimate of 50 percent.
Marseille airport in the south of France said on its website that it was less affected than others, with 100 flights or about a third cancelled. More than 70 flights were grounded out of Nice airport. Britain's easyJet has said it was cancelling 35 flights to Paris, 11 to Toulouse and others to Marseille, Bordeaux and Nice.
Preparations for the first flight of Europe's newest passenger jet, the Airbus A350, were also affected by the strike.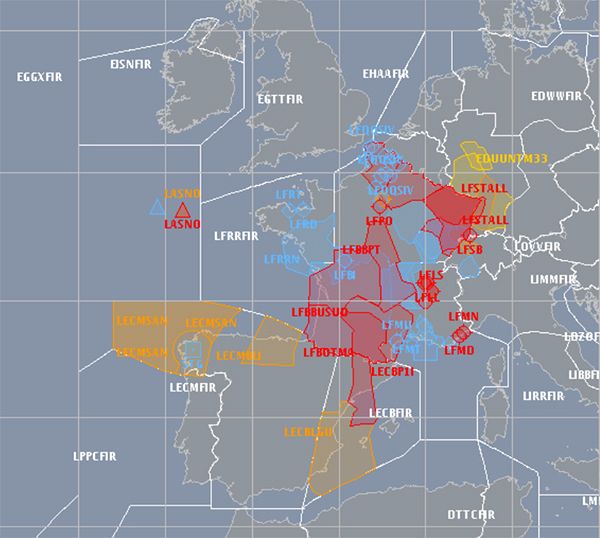 Eurocontrol map displaying the delayed flights at 12:30pm
GMT

. Delays over 45 minutes are shown in red.