The race to succeed Iranian President Mahmoud Ahmadinejad is entering the final stretch, with the list of candidates declared eligible to participate in the June 14 elections having been whittled down to just eight.
The eight – all men – were approved by Iran's Guardian Council, a 12-member body consisting of six jurists and six theologians, and whose task it is to approve candidates' nominations and confirm the final election results.
Registration for the country's 11th presidential election took place from May 7 to 11, with more than 680 candidates putting their names forward. Former president Akbar Hashemi Rafsanjani and Mahmoud Ahmadinejad's Chief of Staff Esfandiar Rahim Mashaei were amongst those who were barred from the ballot by the Guardian Council.
The official election campaign will begin on May 24 and will end on June 13, the day before Iranians cast their votes.
On June 15, the Presidential Commission will announce the official results, which the Guardian Council will either confirm or reject five days later.
The newly-elected president will meet with the supreme leader Ali Khamenei on August 1 before being sworn in on August 3.
The eight candidates
The Guardian Council ruled that Mohammad-Bagher Ghalibaf, Mohsen Rezaee, Saeed Jalili, Ali Akbar Velayati, Gholam-Ali Haddad-Adel, Mohammad-Reza Aref, Hassan Rouhani and Mohammad Gharazi are eligible to run for presidency.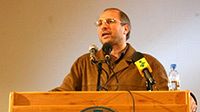 Mohammad-Bagher Ghalibaf (born August 23, 1961 in Torqabeh, Razavi Khorasan Province) is a candidate with the Secular Society of Engineers (ISE). A former military and police commander, Ghalibaf is the 54th and current Mayor of Tehran, serving his second term having first been elected in 2005.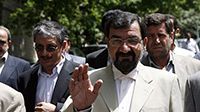 Mohsen Rezaee (born on September 9, 1954 in Masjed Soleyman, Khuzestan) is a candidate with the Moderation and Development Party (MDP). An economist and former military commander, he currently serves as the Secretary of the Expediency Discernment Council of the Islamic Republic of Iran. Before that, Rezaee was the Iranian Revolutionary Guard Corps chief commander for 16 years.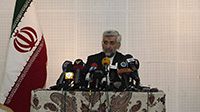 Saeed Jalili (born September 6, 1965) is a candidate with Front of Islamic Revolution Stability party (FSP). Currently, he serves as the present secretary of Iran's Supreme National Security Council.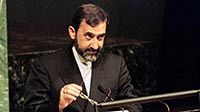 Ali Akbar Velayati (born June 25, 1945) is a candidate with The Islamic Coalition Party (ICP). An academic and diplomat, he was the Minister of Foreign Affairs for more than sixteen years from 1981 to 1997 under Prime Minister Mir-Hossein Mousavi and Presidents Ali Khamenei and Akbar Hashemi Rafsanjani. He is the first and only person to held the post for more than ten years.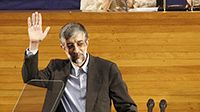 Gholam-Ali Haddad-Adel (born 1945) is a candidate with the Society of Devotees of the Islamic Revolution party. A philosopher and former chairman of the Iranian parliament, he is the first non-cleric in the post since the Iranian Revolution of 1979.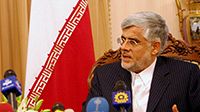 Mohammad-Reza Aref (born 1951) is a candidate with the Islamic Iran Participation Front party. Aref is an academic, electrical engineer and professor at Sharif University of Technology in Tehran.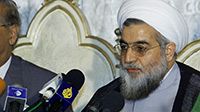 Hassan Rouhani (born November 12, 1948) is a candidate with the Combatant Clergy Association party. He has been a member of the Assembly of Experts since 1999, a member of the Islamic Republic of Iran's Expediency Council since 1991, a member of the Supreme National Security Council since 1989 and head of the Center for Strategic Research since 1992.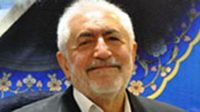 Mohammad Gharazi (born October 5, 1941 in Isfahan) is an independent candidate. He served as Minister of Petroleum from 1981 to 1985 and Minister of Post from 1985 to 1997. He was also a member of the Iranian Parliament from 1980 to 1984.