Leak that prompted AP phone records seizure put 'American people at risk'

The US Justice Department has come out in defence of its actions to seize phone records of The Associated Press.
The seizure is believed to be linked to an investigation into whether one of the press agency's stories about a thwarted terror plot in Yemen was based on leaked classified information.
"It is within the top two or three most serious leaks that I've ever seen. It put the American people at risk and that is not hyperbole. It put the American people at risk and trying to determine who was responsible for that I think required very aggressive action," said Eric Holder, US Attorney General.
The Associated Press condemned the scope of the intrusion as an infringement on media freedom. Normally the media are notified in advance of all seizures but the AP says they were told after the fact.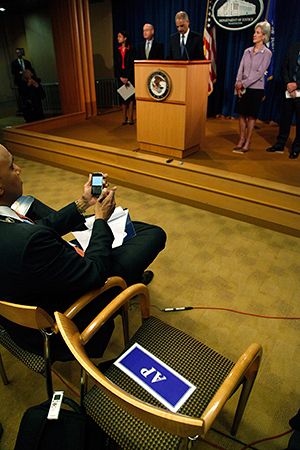 The White House said that President Barack Obama was not privy to the justice department's actions in the matter.
Jay Carney, White House spokesman, added: "He is also mindful of the need for secret and classified information to remain secret and classified in order to protect our national security interests. So there is a careful balance here that must be attained."
The incident has caused a furore in the US and commentators are questioning whether Obama is striking the right balance between protecting the nation and invasion of privacy.