No end in sight for eurozone recession

The eurozone's economy remains stuck in recession.
The latest figures show that between January and March it contracted for the sixth straight quarter.
That comes as governments cut back spending to reduce deficits, companies lay off staff, Europeans buy less and young people have little hope of finding employment.
Gross domestic product in the 17 countries that use the euro shrank by 0.2 percent at the start of the year.
That means it is one percent smaller compared to the same period a year earlier.
The region's biggest economy – Germany – managed to grow in the first quarter, but by just 0.1 percent.
Any hope of a quick recovery has evaporated as the bloc's recession drags on.
It has now run longer than the five quarters of contraction that followed the global financial crisis in 2008/2009.
The crisis that began in Greece in 2009 has seeped across the bloc to suck in the wealthy nations such as France.
Across the 27-member European Union, GDP was 0.1 percent down.
The UK economy however, received some relief with data showing growth of 0.3 percent. GDP in the United States grew by 0.6 percent in the first quarter of 2013, and was up 1.8 percent year-on-year.
Hollande: France's situation "serious"
France's economy slipped by 0.2 percent for the second consecutive quarter, meaning it is officially in recession for the second time in four years.
The country's economy minister Pierre Moscovici said this was "not a surprise" and that it was "largely due to the eurozone environment."
French president François Hollande said the situation was "serious" but not as bad as the previous recession in 2008-2009. He also pointed the finger at a fall in demand for French products in Europe.
France's unemployment rate is expected to continue to rise from its current 10.6 percent. That is still below the eurozone average, which was 11.4 percent last year.
Joining France in recording negative growth in the first quarter of 2013 was Italy, where the economy lost 0.5 percent, its seventh consecutive quarter of loss. The same can be said for Spain, where unemployment is above 25 percent.
EU, eurozone and United States GDP growth rates
% change over the previous quarter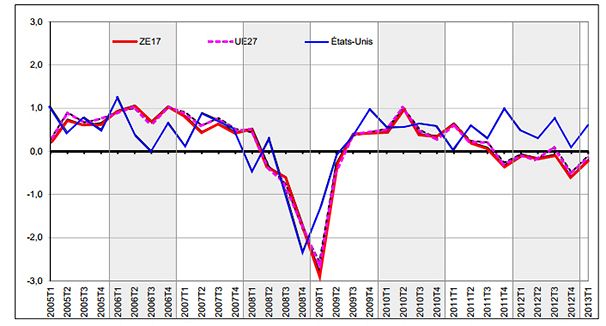 eurostat