Bulgarian vote in time of deep trouble

This Sunday is election day in the European Union's poorest country, Bulgaria.
Mass protests forced the centre-right government led by former prime minister Boiko Borisov to resign in February. It is likely Borisov's GERB party will win the most votes. Although a hung parliament is likely, activists say they'll protest again if GERB emerges as the largest party. Earlier this year seven protesters died after setting themselves on fire.
Whoever wins the national election will have to face national low wages, high bills, debilitating corruption and a deep recession.
Officially unemployment is 12 percent, but industry voices say the real rate is closer to 18 percent.
Greece and Spain have higher figures but Bulgarian living standards are less than half the EU average. An average Bulgarian monthly wage of 400 euros is less than the minimum in Spain or Greece.
Nominally, Bulgaria is a member of the EU but the reality feels different. Bulgarians (and Romanians) find themselves on the edge of the bloc (not just geographically). Their EU partners frequently question their commitment to the rule of law and willingness to crack down on corruption, organised crime and illegal migration. Diplomats from other member states often quietly question the wisdom of having allowed them to become members.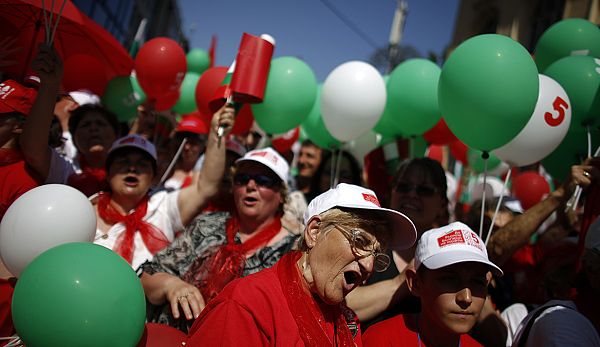 Supporters of the Bulgarian Socialist Party (BSP) shout slogans during a rally marking May Day, or Labour Day, in central Sofia May 1, 2013
Membership has not delivered democratic stability, economic growth and greater opportunity for all.
Explaining that if citizens wanted to understand the gap between expectation and reality, they should look first to home, not to Brussels, Amanda Paul, an east Europe expert at the European Policy Centre, a think tank, said: "As a whole I think both Romania and Bulgaria have benefited from membership, but they still have significant democratic deficits. They should be more disappointed in their own leaders and politicians rather than in the EU institutions and what the EU has been able to do for them."
Bulgaria and Romania remain outside Schengen, the agreement that allows for the free movement of citizens across 26 European countries, and plans to join the euro currency are on hold for the immediate future.
More than two million people have left Bulgaria since the 1989 fall of communism. The population is down to 7.3 million.