The organised and most avid festival-goers among us will probably already have their tickets booked to one or more of the hundreds of music festivals being held across Europe this spring and summer. But there are plenty more music lovers out there who are still weighing up their options, line-ups, costs and logistics. The good news is, it's early days and tickets are still available to most of the festivals on offer.
If you're still agonising over which European music festivals to attend this year, if you're tempted and want to find out more, or if you're simply curious to know who's playing where and when, try out euronews' map of European festivals.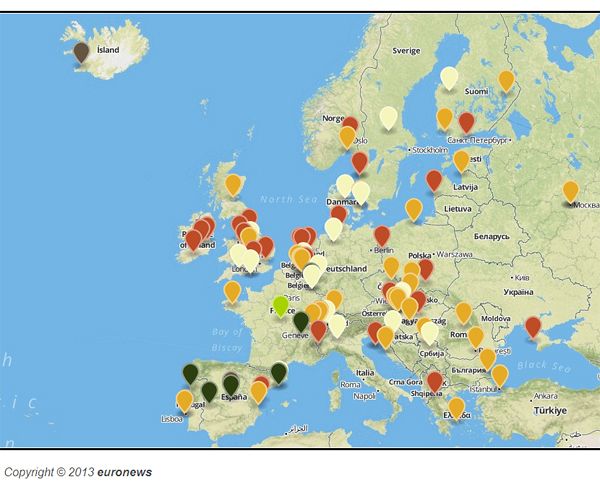 The map is a work in progress, so if you'd like us to add a festival that you believe is worth knowing about, then send your suggestions to festivals@euronews.com. If you've got a video of a festival to add, feel free to send them to us and we'll build the list as we go along. To get started, we are also sharing with you the profiles of 10 of the biggest live music festivals in Europe…
1. Benicassim – Spain
18-21 July
The FIB (Festival Internacional de Benicàssim), is set by the beaches of the Costa del Azahar, between Barcelona and Valencia, and attracts around 50,000 visitors each year, many of whom travel from all over Europe for the combination of sun, sea, sand and music. A full ticket for 163€ lets you camp for 8 days and gives you entry to the 4 days of music, mostly a mix of rock, pop and electro. Benicassim is known for its young crowd and late nights, with the music only starting around 5pm each evening and going until around 8am.
The line up for the 2013 festival features Queens of the Stone Age, Arctic Monkeys, Primal Scream, Dizzee Rascal, Kaiser Chiefs and The Killers.
Watch Noel Gallagher perform with High Flying Birds at the 2012 event.
2. Nuit Sonores – Lyon, France
7-12 May
Held in various unusual and unique locations across Lyon, Nuits Sonores' philosophy is to develop a mix of music, graphic design, scenography, visual creation and digital culture in an urban environment. The backbone of the festival is electronic music but in recent years the event has grown and diversified, now offering around 80,000 people an increasingly wide range of day-time activities across the city, such as a children's festival, roller skating, cycling and cinema events.
A range of ticketing options are available but a pass for 3 days and nights will cost around 150€.
Headliners for 2013 are Mos Def, The Raveonettes, Vitalic, SBTRKT, Dan Deacon, Nosaj Thing, Scuba and Busy P.
Watch the highlights of last year's Nuits Sonores.
3. Roskilde – Roskilde Denmark
29 Jun – 07 Jul
Roskilde was Denmark's first real music-orientated festival and has been going since the 70s. The event is run by the Roskilde Foundation, a non-profit organisation that supports initiatives benefiting young people and humanitarian work.
The week-long festival hosts around 80,000 guests and close to 20,000 volunteers. It also includes an art programme, so you can expect installations, performance art, and pieces that involve the festival-goers themselves. And if you want to try and win a free ticket for the following year you can always take part in the 'naked run' around the campsite.
Tickets for the full event, including a few days camping before the music starts, will cost around 1910 DKK (250€).
This years' line up includes Rihanna, Slipknot, Sigure Ros, Queens of the Stone Age, The National, Animal Collective.
4. Glastonbury – Glastonbury, UK
26-30 Jun
Glastonbury first started in the 1970s, influenced heavily by the hippie culture of the time. Today it offers the 'best' of the commercial world, with the biggest acts from across the globe, while retaining its bohemian atmosphere with specific areas dedicated to meditation, dance and poetry.
For the 2013 festival 135,000 tickets sold out in 24 hours (before the line up was even announced), perhaps in part due to the fact that there was no Glastonbury festival in 2012. If you want to go this year you will have to register now and keep an eye on the resale that takes place on April 21.
In addition to the main stages that play rock, pop, electro and hip hop there is a whole 'Dance Village' dedicated to all varieties of the genre.
Headliners for 2013 include Arctic Monkeys, The Rolling Stones, Mumford and Sons, Chase & Status, Portishead, Dizzee Rascal and Primal Scream.
A standard ticket will set you back around £205 (240€).
Here is a clip of one of the 2011 headliners, Coldplay.
5. Rock am Ring and Rock im Park – Nurburg and Nuremberg, Germany
07-09 Jun
These twin festivals in different parts of Germany have a combined annual audience of around 150,000. The two festivals are around 400 km apart but feature the same line up on alternate days.
The festival was originally intended as a one-off event but thanks to the success of the first edition in 1985, which featured U2 and Joe Cocker, the event has been back almost every year since.
This year, Rock am Ring is already sold out but you can still get your tickets to the partner festival Rock im Park from around 170€.
The 2013 line up offers The Killers, Green Day, Paramore, Korn, 30 Seconds to Mars, The Prodigy and Bullet For My Valentine.
Metallica at Rock am Ring in 2012.
6. Exit – Novi Sad, Serbia
10-14 Jul
In just thirteen years Exit has developed a hugely positive international reputation, and is attended by around 130,000 people. It has been visited by festival-goers from 60 countries across the globe thanks to its unique location and wide range of music. Exit was awarded the "Best European Festival" award in the 2007 UK Festival Awards.
The headliners for 2013 are Bloc Party, Snoop Dogg, Fatboy Slim, DJ Fresh, Prong and Dubfire.
Package deals that include a 5-day festival ticket, airport transfers and a city pass are on sale for around 140€ now.
7. Tomorrowland – Boom, Belgium
26-28 July
With a capacity that grows every year and is now at 180,000, Tomorrowland is described on one site as "A trippy technicolour fantasy". The event offers dance lovers a mix of house, progressive, techno, dubstep, trance, electro and more.
Set amongst the lakes and trees, extra activities include paddle boats, fair ground rides and a "Church of Love".
Like Glastonbury, most tickets have sold out in record time but a resale is set for May. Organisers are also promising a second event later in the year.
Headliners include Tiësto, Infected Mushroom, Armin Van Buuren, Benny Benassi, Paul van Dyk and Erik Prydz
8. Paléo – Nyon, Switzerland
26-28 Jul
Paléo is a six day festival that offers 230,000 members of the public around 200 performances. The festival's site says that since it began in the 1970s, over 5 million people have attended the event. The Paléo team describe it as a "marriage of concert and carnival". There is a special emphasis on up-coming talent and less well-known musical styles.
Your 2013 line up will feature Phoenix, Neil Young & Crazy Horse, BB Brunes, Merz and Navel.
Tickets will be available from April 24 and will cost around 55€ a day or 270€ for the full 6 days.
Check out this euronews report on the festival from a couple of years ago:
9. Sziget – Budapest, Hungary
05-12 Aug
Sziget is set on an island in the heart of Budapest and has grown into one of the most diverse and international festivals on offer. The line up offers a range of music that caters to all tastes from rock and hip hop to reggae and dance. It is a week-long event that hosts around 1,000 acts on 60 stages to a crowd of around 300,000.
In 2013 expect to see: Regina Spektor, Blur, Bad Religion, David Guetta, Editors, Die Arzte, Enter Shikari, Dizzee Rascal and Azaelia Banks
Besides the music, other activities include belly dancing, bungee-jumping, learning Hungarian and karaoke.
A ticket with camping will cost you around 200€.
10. Przystanek Woodstock – Kostrzyn, Poland
01-03 Aug
Possibly Europe's biggest music festival, Przystanek Woodstock, is a free three-day event that attracts around 500,000 people. The event only has two stages so bands have the opportunity to play to nearly half a million people. The completely non-commercial event is funded by sponsors and proceeds raised at the event go to charity.
In addition to the music, attendees are offered workshops, art, talks and sport. Other features include a blood donation point and areas where various authorities, including journalists, TV people and celebrities can talk to the 'Woodstockians'