 The mouse has become part of everyday life. But the CSEM – the Swiss centre of electronics and microtechniques has invented what might become the mouse of the future.
Enter, the spaceCoder. It can be used as a 3D mouse and will help 3D designers, providing a precise easy-to-use tool for contact-free 3D drawing.
However the SpaceCoder, a little black box, is more than just a 3D mouse. It uses a system based on light and shadow to read the 3D position of a light source, to the precision of a nanometer.
It can be integrated into laptops, flat screen TVs or Smartphones for full 3D interactivity between user and technology.
Engineer Eric Grenet said: "We can also use the spaceCoder to move an object in three dimensions and change the angle to turn it the way we want in a very precise way. We can also use the spaceCoder like a remote control, one button will suffice to navigate the different menus. The spaceCoder is based on the principle of Shadow Imaging.
"Imagine that a blank piece of paper is a vision sensor such as a webcam. If I place my hand at a fixed distance from the sensor, variations in the position of the light source are detected by the spaceCoder. The projected shadow – when analysed by the sensor – allows the 3D position of the light source to be detected. When you move, it moves, when you bring it closer or further away, it grows or gets smaller. The principle is very simple, really based on Chinese shadow puppets and shadow imaging."
CyclePower is another application which uses the spaceCoder. Thanks to a little light on the pedal, which is measured by the spaceCoder at a nanometric level, sportsmen and women can track their performance in real time. It can be used by keen amateurs or elite athletes.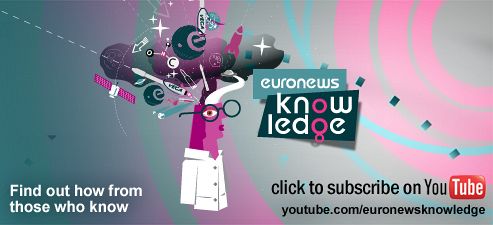 euronews' Claudio Rocco demonstrated another use:
"Despite the dreadful weather, scientists are using this tool called Sun Tracker, which is able to determine with absolute precision, the angle of the sun relative to the Earth," he said.
Sun Tracker is another spaceCoder application. As it detects the 3D position of any light source with high precision it can calculate precisely the position of the sun. It detects a new sun position every 10 milliseconds with an angular precision of 250 micro degrees. Such extreme performance is necessary for demanding spatial applications like tracking the sun or stars for satellites or airplanes.
Along with the centre for biomedical engineering, ARTORG, in Bern, the spaceCoder will be used in image-guided microsurgery for implanting hearing aids.
The surgery consists of drilling a minimally invasive tunnel behind the ear to pass the electrode implant directly into the cochlea.
Claudio Rocco asked:
"What is the difference between an operation using the SpaceCoder and traditional surgery?"
Engineer Amina Chebira said: "The other technologies use a stereo camera which is a lot bigger and a lot more expensive and less precise. With the spaceCoder, lights are fixed to the patient's skull to guide the robotic arm and the drill bit to make the tunnel to get to the cochlea.
"So this is where the accuracy and precision of spaceCoder are very important because the space is very small."