How do you like your coffee? At select cafes in Dubai, you get camel's milk. And its producers are taking it global.
Although less known lately, camel's milk has been consumed throughout history. In the United Arab Emirates and other countries in the Gulf region, it is part of a long cultural memory.
Enjoying a camel latté, Taghreed Turki, from Saudi Arabia, said: "It was drunk by my grandfather and my ancestors, but not many people are familiar with it now. It is healthy, and is even said to be a deterrent against cancer."
The company 'Camelicious' has ambitious export plans, given the qualities of the product.
Café customer Derek Turner, from Leicester, UK, described it: "Sweet but not overpowering, refreshing and different in a nice way."
Judy Havard, a tourist from Adelaide, Australia, said: "Beautiful, actually. It's a lovely cup of coffee, and I didn't even realise that it was camel milk."
On one modern Dubai farm, they have been milking Arabian camels for 10 years – also known as dromedaries. They have 3,000 of them, and are taking steps to double the size of their operation and diversify into cheeses, butter and ice cream – dromedary ice cream from the desert. It is also going into chocolate. This is not an April Fool's Day joke.
Just wait till you see it on dairy shelves near you, said farm manager Dr Peter Nagy: "It is easier to digest, some vitamins are higher and the fat content is lower. It could help in treating tuberculosis patients. Also, there are data showing that it can have antiviral effects against certain viruses."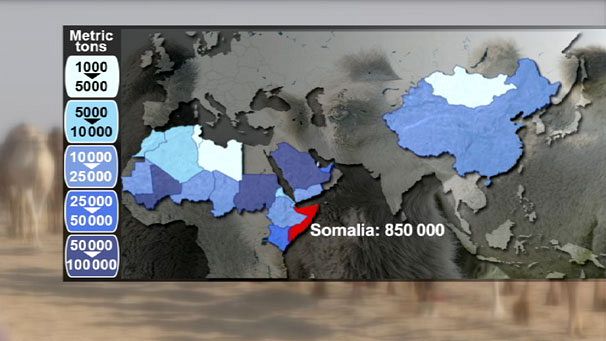 The world has an estimated 20 million camels, while the number of dairy cows is thought to be around 240 million. So, camel dairies are still a small-scale business, overall, found in about 15 countries. Somalia is the biggest producer, followed by Saudi Arabia. But not all of them have the resources to export the milk.
Other companies are investing in the sales potential, encouraged by the European Union's authorisation of camel milk products in 2010.
Roddy-Fok-Shan, general manager of Majlis al Nasseem Coffee Shops, said: "We have to bring it to the major market: Paris, London, Seoul (which will be coming soon), Japan. The Japanese market has a craze, the Japanese market, the Chinese market, the Asian market has a big craze for camel milk."
These entrepreneurs see 2013 as the Year of the Camel.