President Barack Obama may be in the Middle East this week, but that doesn't mean that Washington DC will stop being the center of the universe.
The SATELLITE 2013 conference and exhibition kicked off on Monday night, making the Washington Convention Center, once again, the centre of the satellite communications universe.
Attendees can immerse themselves in sessions, round tables and user discussions; allowing them to delve deep into important topics led by thought-leaders, pioneers and innovators in the global satellite marketplace.
This year's event, the 32nd annual conference, is expected to attract more than 12,000 delegates from 75 countries and 350 exhibiting companies. Waiting for the visitors is a full programme led by more than 300 communications via satellite experts and innovators.
"SATELLITE 2013 presents a 360-degree view of the satellite communications marketplace, providing a unique opportunity for anyone looking to compare shop products, applications and technology in one convenient location," SATELLITE 2013 show director Lindsey Fuller said in a statement.
"There will be solutions that encompass the needs of the entire satellite community – from military and government officials to C-level executives, broadcasters, engineers, and telecommunications professionals."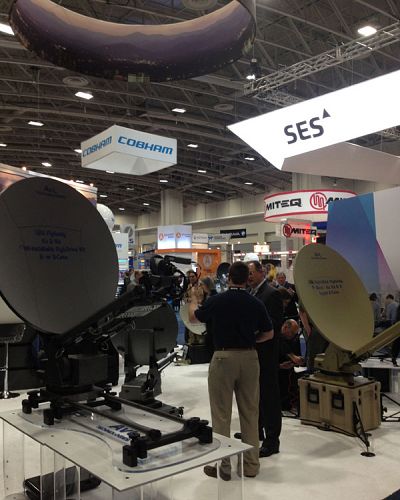 The products and services of this mega-billion dollar industry continue to shape the satellite-enabled communications landscape.
Ever-changing demand, new applications and degrees in profitability will determine future business opportunities. Professionals in the global satellite marketplace are tasked with identifying and capitalizing on emerging opportunities of growth and revenue.
During the recession of the past few years, the satellite industry was hit by financing worries and the diminishing ability to raise capital. But these times seem to be over. In fact, the industry is currently in one of its strongest positions of the past decade, according to a panel of the "Big Four" chief executives of the world's leading fixed satellite operators – Eutelsat, Intelsat, SES and Telesat. There was consensus that commercial, consumer and government demand worldwide for communications services via satellite continue to drive investment and innovation.
Looking to the horizon, it was consumer TV technology that created a lot of buzz. Eutelsat CEO Michel De Rosen told euronews that Ultra-High Definition (four times the resolution of Full HD) will be "a game changer in the future" because of the "amazing viewing experience".
He believes that Ultra-HD could already have a market impact in three years, when the Olympics and the FIFA World Cup are on everybody's screens.
Other experts are less optimistic, as Ultra-HD comes with a whopping price tag. Sony, one of the pioneers of this technology, has its massive 84" XBR model at $24,999 – although delivery and in-home set-up are free.
Also on the agenda was the improvement of what industry analysts call the "satellite ecosystem" in which satellite operators have to navigate. Basically, it is a combination of access to space, satellite manufacturing, innovations and cost-effective technologies.
Romain Bausch, CEO of SES, points to the fact that costs have gone down by two-thirds since the late 1980s, especially in the launch industry. This would allow satellite operators to become increasingly more a part of the "telecommunications ecosystem". "This is a real challenge for us" he said.
After a period of ups and downs, commercial launch providers have become much more reliable, says Eutelsat's Michel De Rosen, citing especially Arianespace, based in Evry, France. "We need good launchers, but we don't need a monopoly. We need a choice of at least three launchers."
On the eve of the conference Arianespace announced a launch services contract with Intelsat for the launch of three satellites in 2017. Weighing more than six tons each at launch, the satellites will be placed into geostationary orbit by the Ariane 5 ECA from Europe's Space Port in French Guiana.
The three missions will include the launch of Intelsat's previously announced high-throughput EpicNG–class satellites. Intelsat EpicNG is designed to address wireless and fixed telecommunications, enterprise, mobility, video and government applications that require broadband infrastructure. This new contract represents the 52nd, 53rd and 54th Arianespace satellites.