 Nowruz, meaning 'New day', was celebrated on Wednesday in several countries.
This ancestral festival, which has been observed for more than 3,000 years marks the Iranian/Persian New Year and is primarily celebrated in Iran, Afghanistan, Azerbaijan, India, Kyrgyzstan, Tajikistan, Pakistan, Turkey and Uzbekistan. In February 2010 UNESCO recognised The International Day of Nowruz on their list of "Intangible Cultural Heritage of Humanity".
Nowruz coincides with the start of spring and traditionally honours the rebirth of nature. The celebration begins precisely with the vernal equinox, the moment the sun crosses the equator and sunlight is evenly divided between the two hemispheres.
Nowruz, whilst now deeply embedded in Iranian culture, is rooted in the traditions of the Zoroastrian religion. Zoroastrianism, an ancient Iranian religion and religious philosophy, was once the state religion of Ancient Iran and is thought to be one of the oldest of the world's religions.
Although different in every region, the festival is usually honoured with prayer and celebration. In the lead-up to the event, spring-cleaning and visiting family feature heavily. One tradition the 'Haftsin' involves laying out specific objects on a tablecloth including seven edible items beginning with 's'. As these are not eaten until after the festivities, they are often substituted with alternatives, such as 'sekke' (coins), 'sonbol' (hyacinth) or 'sabzeh' (wheat sprouts), see image below.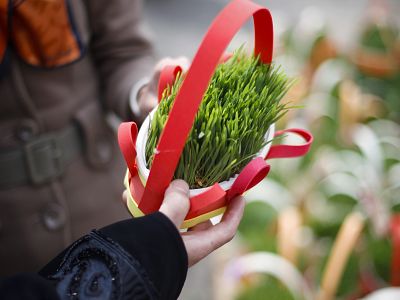 Photo Credits: (top of page) Sioudeh Rad (above) Reuters
In recent years Barack Obama has addressed a Nowruz message to the Iranian people.