Snow was back with a vengeance to Europe early this week, as a chilly reminder that winter is not over yet. The cold-snap caused significant travel disruptions, with the closure of Frankfurt airport and the suspension of Eurostar trains between Paris and London.
The uncommon March snowfall also knocked out power lines to thousands of French homes and left hundreds of motorists immobile on roads on both sides of the English channel.
France was worst hit but there were also severe traffic problems in Germany, Britain, Belgium and the Netherlands.
Frankfurt airport, the third-busiest in Europe, had to close due to heavy snow, affecting more than 200 flights by lunchtime.
Eurostar train services between London and Paris were suspended after snowfall of up to 60cms on the tracks in northern France and Belgium. Eurostar said it expected services to resume on Wednesday.
Nearly a third of France's regions were on alert and the government activated a ministerial crisis group.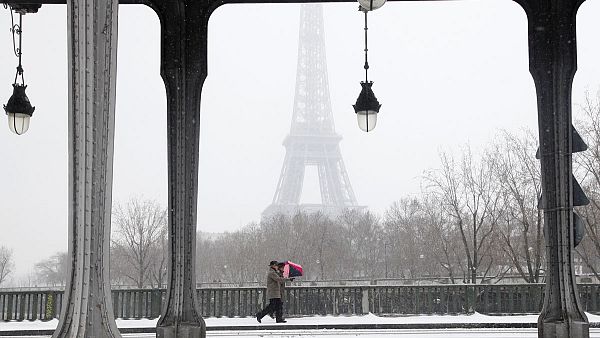 The Eiffel Tower, Paris
More than 2,000 people were stranded in their cars in northern France overnight; heavy snow paralysed ungritted roads in Normandy and Brittany, with many motorists forced to sleep in emergency shelters.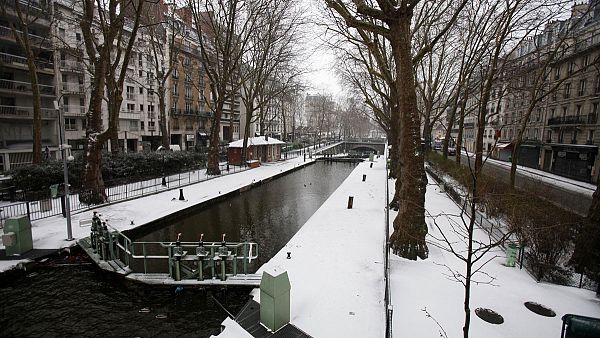 The Saint Martin canal, Paris
"There are cars in front, there are cars behind. We're in a film, it's like the end of the world," trapped driver Michel told France Bleu radio from the Manche (English Channel) region.
Around 80,000 homes in the north and northwest of France were without power.
The snow caused major disruption in Paris, with authorities urging the seven million daily public transport users to stay at home. Several major roads around the capital remained shut.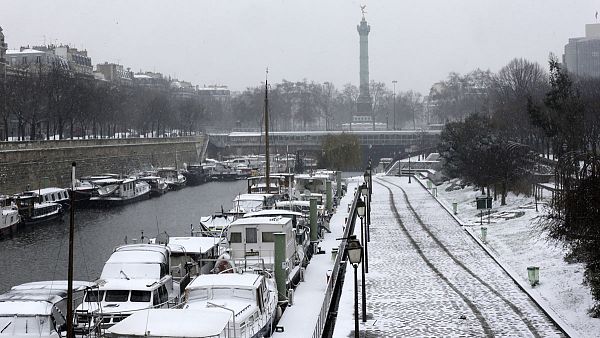 The Port de l'Arsenal near Place Bastille, Paris
Paris's two main airports, Charles de Gaulle and Orly, cancelled up to a quarter of flights, while no planes took off from the nearby Beauvais airport, which erves mainly low-cost airlines.
At Orly, a Tunisair flight carrying 140 people from Djerba skidded off the runway on landing but no one was injured, an airport source said.
A traffic accident near Lille injured 14 people and a 58-year-old homeless man was found dead, presumably from the cold, outside a building in the town of Saint-Brieuc in Brittany.
Hundreds of motorists were also confined to their cars overnight in Britain, some for more than 10 hours due to ice and snow.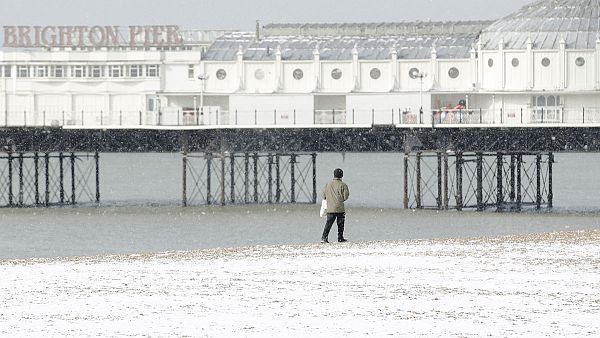 A beach next to Brighton Pier, southern England
Singer Cheryl Baker, formerly of the band Bucks Fizz (1981 Eurovision Song Contest winners with the song "Making Your Mind Up") was among those caught up in the chaos as she tried to reach Brighton to pick up her children.
"We (took) 10 hours to do a one-hour journey," she told ITV. "The traffic and the weather have just been atrocious and none of the roads had been gritted."
Public transport in Berlin was affected with dozens of cancellations and delays. A series of crashes on Germany's icy roads left several people seriously hurt and one dead, according to police.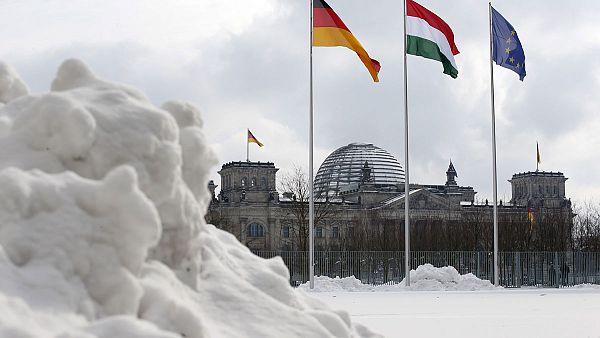 The Chancellery in Berlin ahead of Hungarian President Janos Ader's meeting with German Chancellor Angela Merkel
Belgium did not escape the travel misery, with a total of 1,600 kilometres of traffic jams on motorways caused by snowdrifts and ice.
Buses and trains were cancelled or delayed in Brussels and other towns and the high-speed Thalys service linking Paris and Brussels was suspended.
There were similar scenes in the southern Netherlands after more than 10 centimetres of snow fell overnight.
Source: AFP