A team of German journalists and developers concerned about data protection legislation have launched an online platform to expose the copy-pasting of lobbyists' position papers into EU legislation.
It's called LobbyPlag and it aims to denounce deregulating influences (such as Ebay's or the European Banking Federation's) on EU Committee members' amendments to the draft of General Data Protection Regulation (GDPR). This law, planned to take effect in 2016, is intended to replace previous obsolete directives and unify data protection within the EU.
Richard Gutjahr, one of the LobbyPlag founders, explained to euronews how the idea came to them. Max Schrems (an Austrian student taking Facebook to court over privacy concerns) came to him last week with a discovery he had made. He had found out that several segments of lobbyists' position papers had been copied word-for-word into EU Committee members' amendments to the GDPR.
Gutjahr said at that time he was not very knowledgeable about the European law making process. But his curiosity was piqued. He contacted Marco Maas, a Hamburg-based data-journalist and they started brainstorming.
After a few sleepless nights and numerous conference calls, the beta version of LobbyPlag was born. Now, up to six people work on the site, to develop and maintain it, all for free. It is online at
Lobbyplag.eu
. "We wanted a dot eu (.eu) address for the site, not a dot de (.de, for Germany), to get the other Europeans involved too," Gutjahr says.
Harnessing the power of the crowd
At the moment, the website lets you compare a sample of lobby documents with drafts of amendments while highlighting the deleted parts and the added words/sentences/paragraphs, copy-pasted straight from lobby documents. A truly damning sight.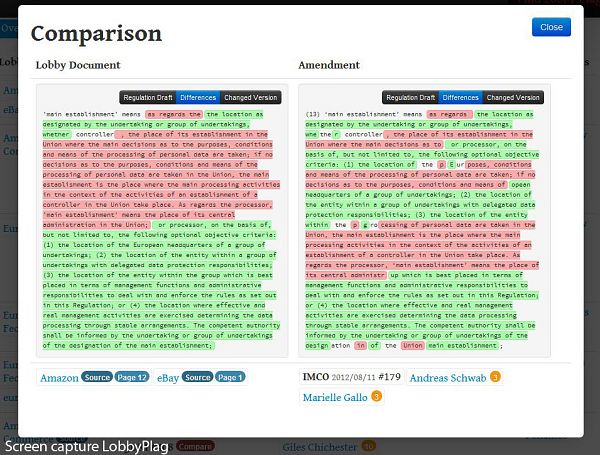 Only a few amendments and lobby documents, sent by various sources, are available so far. In the future, to tackle the Herculean task of scanning 1700 amendments by EU Committee members to check for lobbying content, LobbyPlag plans to use the only resources it has: its visitors.
LobbyPlag intends to use the same investigative crowd-sourcing methods developed with the Karl-Theodor zu Guttenberg plagiarism case where "more than 1000 volunteers investigating together […] documented 1218 cases of plagiarism" in the German former Minister of Defence's doctoral thesis. Guttenberg eventually resigned in the wake of the scandal.
Similarly, LobbyPlag will ask its visitors to pitch in and look for "even more covertly copied passages" in the huge corpus of amendments and lobby documents. It provides them links to the papers and the amendments.
"Now, we do it all by hand and we want to go to the crowdsourced solution because a computer cannot see the difference," Gutjahr, who describes himself as a journalist with a classic background but a digital future, told euronews. Human eyes are needed "to read and understand the distinction."
Raising money for a fully-fledged transparency tool
To optimize the workflow of the investigative netizens, the team behind LobbyPlag plans to "craft a powerful and sly research tool to find even more lobby proposal replications."
As the team is currently working for nothing, to fully fund their ambitious transparency platform project, they started a social fundraising operation, or crowdfunding, on the German website Krautreporter.
Their primary goal is 7,500€, which will cover "to 200 hours of coding [including some they already spent working] (on a non-profit wage) and server costs for 2 years." They also promise to give 20% of the raised sum to their partner EU transparency initiative ParlTrack, "if [ ParlTrack ] don't reach their own fundraising goal".
LobbyPlag's more optimistic goal, reaching 10,000 euros, will allow them to work on optimization for mobile and an embed function, the site explains. As of right now, they have gathered 2,682€ from 117 donors with 15 days to go.
Time is running out
LobbyPlag wants to raise awareness of this issue before the vote, negotiations and implementation of the General Data Protection Regulation. The next important date for the team, and other digital rights activists and partners such as La Quadrature du Net, is February 27, the deadline for tabling amendments. At the end of April lies the orientation vote in LIBE Committee on Civil Liberties, Justice and Home Affairs , an other crucial deadline.
LobbyPlag's time is running out to find out "how deep the connection between the lobby documents and official EU documents are" explains Gutjahr who promises they will be looking at lobby documents coming from both corporate and digital rights pressure groups, for fairness and transparency.
For instance, LobbyPlag's "top scorer" so far is Amelia Andersdotter, a Swedish MEP for the Pirate Party whose amendments contain parts from proposals from digital rights organizations such as Bits of Freedom and European Digital Rights.
However, overall, LobbyPlag's results hint at a much larger influence on the lobby side. "There is a huge imbalance in favour of the companies' side versus the NGO side. Maybe it will be a different picture in 4 weeks from now" Gutjahr admits.
"Once you dig deeper," he says, "you find more."
LobbyPlag fundraising video
Crowdfunding LobbyPlag from OpenDataCity on Vimeo.
See also this euronews report on online privacy rights, featuring Max Schrems