World jobless continues to soar: ILO
Comments Job centres are set to get fuller worldwide.
The International Labour Organisation's annual report, makes familiar grim reading.
As it has at the start of the last six years, the ILO is predicting rises in numbers of people out of work.
Six percent of the world's workforce was affected last year, with long-term unemployment growing; a third of Europe's jobless have been out of work for over a year.
Peter Vanden Houte: Chief Economist with ING said: "As unemployment is typically a lagging indicator and with growth most probably remaining weak (in Europe) until the second quarter of 2013, one can expect that unemployment will continue to increase in the course of 2013."
There were four million additional jobless last year.
Since just before the financial crisis began, the number of registered unemployed worldwide has grown by 28 million and will hit an estimated 202.5 million this year.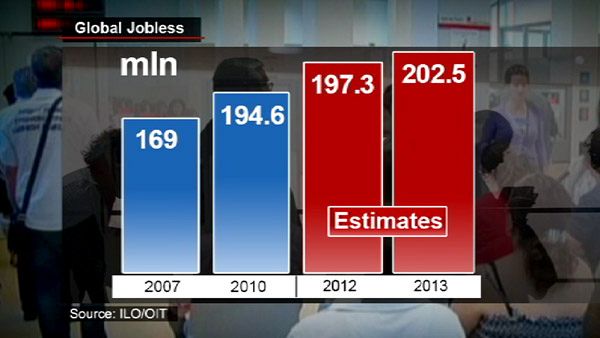 The downturn in economic growth – particularly in developed countries – is taking a heavy toll.
On top of those who are officially registered as unemployed, the International Labour Organisation estimates there over the last six years a further 39 million so-called "discouraged" people have withdrawn from the labour market.
Hardest hit are young people: 12.6 percent of under 24-year-olds worldwide are unemployed.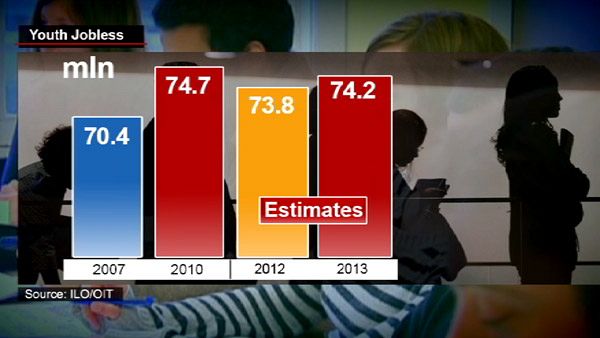 The ILO, which is a United Nations agency, calculated there are currently some 73.8 million youths without work. That total is due to continue rising and in developed economies over a third of those have been jobless for six months or longer.
Lamenting the "massive waste" of the lives and talents of young people, the ILO wants more money spent on training. It points out the lowest levels of youth unemployment are in countries with the largest numbers of apprenticeships – such as Germany, Austria and Switzerland.