Jack Lew may have persuaded Barack Obama that he is the man for the very serious top job at the US treasury, but his handwriting has become the butt of more than a few jokes.
If Lew is confirmed by Congress as Treasury Secretary, his signature will be printed on US Dollar banknotes. And what a signature it is! Resembling a slightly stretched telephone cable or something you might doodle to see if a byro still has ink in it, it is a series of loops from left to right.
Obama couldn't resist poking fun at Lew's sign-off, saying jokingly after officially nominating him that it might even devalue the Dollar.
"I had never noticed Jack's signature," he said, "and when this was highlighted yesterday in the press, I considered rescinding my offer to appoint him…Jack assures me that he is going to work to make at least one letter legible in order not to debase our currency, should he be confirmed as secretary of the Treasury,"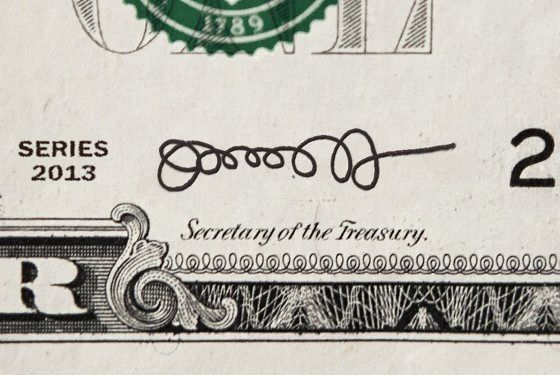 Simulation of what a Lew era US Dollar note would look like – source: New York Magazine
As for hand-writing experts at graphologyconsulting.com , they have claimed that it is "among the most mysteriously weird (with goofy overtones) that we have seen in a quarter century of graphology. It looks like an unraveled Slinky, and like most signatures is not necessarily indicative of the person who wrote it, but more likely the crafted image they want others to perceive. The overall loopiness generally signals hyper-secrecy. He will carry secrets to his grave."
Out-going Treasury Secretary Timothy Geithner changed his own signature when he was given the job in order to make it more lisible, as he himself explains in an interview on the Marketplace website .
And if you want to see what your name looks like 'Lew-style' you can try the Jack Lew signature generator made available by Yahoo!