Eurozone joblessness hits record high
Comments The eurozone's unemployment rate reached a new record in November as companies from carmakers to retailers laid people off.
Joblessness hit the highest level since the euro came into existence in 1999 at 18.82 million people, that is 11.8 percent of the working population.
For all of the 27 countries of the European Union, unemployment broke the 26 million mark for the first time.
"The consequences of the financial and economic crisis and the recession, as a result of that unemployment in the European Union has reached levels not experienced in nearly two decades and the social situation is also deteriorating."
Young people are particularly badly affected.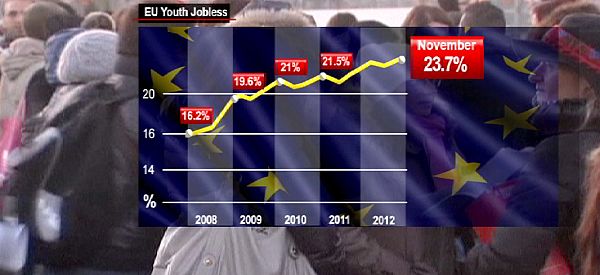 Over the last five years joblessness for under 25-year-olds has risen from an annual rate of 16.2 percent to 23.7 percent in November 2012.
In Spain and Greece well over half those under the age of 25 are out of work. Those two countries also have the highest overall rate.
The Employment Commissioner warned of a "new divide… emerging between countries that seem trapped in a downward spiral of falling output, fast rising unemployment and eroding disposable incomes and those that have so far shown good or at least some resilience."