'End of the world': Even the Bugarach mountain won't save you
Comments French authorities are appealing to 'end of the world' fanatics not to visit the tiny southwest village of Bugarach.
Police have 150 officers guarding the nearby mountain which legend has it will open up when the so-called apocalypse takes place on Friday.
Internet rumours about Bugarach started a couple of years ago. The story goes that alien spaceships will emerge from the peak to transport nearby humans to safety.
Although some tourists have arrived, they are currently outnumbered by the media and the police.
"It is an important date regardless of mythologies and folklore and prophecies, but everybody has made this date. It's in everybody's head so therefore it is important," said a British tourist called Simon.
Some people believe Bugarach is a mystical hill with healing powers while others claim that unusual noises and lights have emanated from the rock.
French police have even sent a team of potholers to guard the caves inside the mountain, clearly worried about the lengths some fanatics may go to.
Independent researcher Jean-Michel Pouce is also concerned: "We're worried that there are people so irresponsible and weak-minded that they may try to bypass the security team and attempt to climb the mountain; and once on the rock they may try to throw themselves off to try to reach this hypothetical vortex that could (supposedly) take them to other dimensions."
Whatever the rumours, the 1,200 metre summit has been cordoned off to believers and non-believers until two days after the 'end of the world'.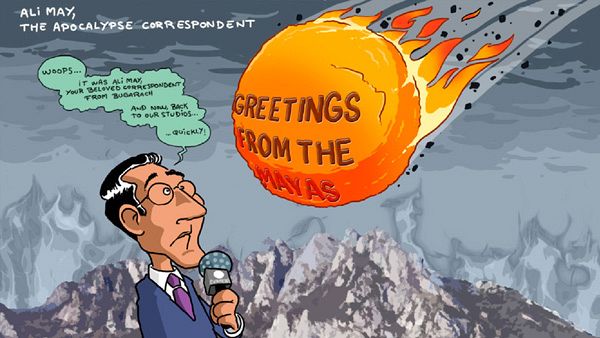 The Apocalypse Correspondent!
Also read:
End of the World: the Mayan perspective
NASA

explains why the world won't end
2012 phenomenon: top five end-of-the-world-themed video games