New car sales plummet to record lows
Comments Car sales across most of Europe's biggest manufacturers have dropped again for the 14th consecutive month.
Over the last eleven months, there has been a 10 percent fall – with sales now at 11.2 million – their lowest level since 1993.
France, Italy and Spain have borne the brunt of the slide with Renault, Peugeot-Citroen, Fiat and General Motors, owners of Opel, among the firms hardest hit.
Peugeot and Fiat both announced last week that they are shedding 1,500 jobs in response to the market decline.
Europe's number one manufacturer, Volkswagen has also seen its sales go down by 2.9 percent. However, there has been better news for Germany's premium car makers; BMW, Audi and Mercedes-Benz all managing to keep their heads above water.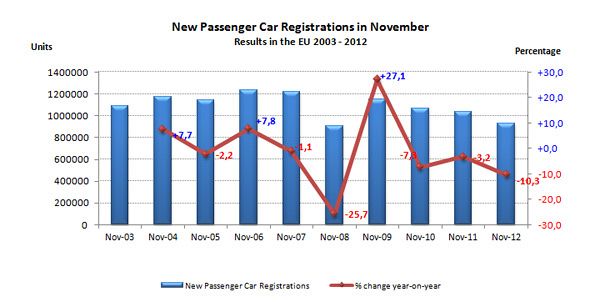 Graphic: ACEA