euronews is looking back at the year's events and the people for whom 2012 will be remembered. In a year of elections and ongoing economic struggles, certain individuals and groups stand out from the crowd, whether in the field of politics, activism, science, sport or culture. euronews invites you to comment on our newsroom's shortlist on our facebook page and tell us if there's anyone you would like to see added.
And you can vote for your choice among our shortlist at the bottom of this page!
Malala Yousafazi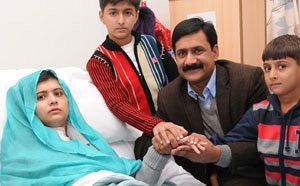 The 15-year-old Pakistani schoolgirl was shot in the head at close range by Taliban gunmen as punishment for campaigning for the right for girls to go to school. Her blogs describing life in the Taliban-controlled Swat Valley were published by the BBC in 2009, giving her a worldwide audience and they provided a rare first-hand account of a society in which women were banned from schools but also from activities taken by most for granted like shopping, television and music.

In October two men stopped the bus bringing her and her classmates back from school. One of the men mounted the bus and demanded to know which girl was Malala. He fired three shots, one of which entered her skull and grazed her brain. The Taliban claimed responsibility for the attack, calling it punishment for "promoting secularism". Taliban leaders have reiterated their intention to kill her and her father.

She is now under close protection in a hospital in the UK, where doctors say she should make a full recovery. On a recent visit to see her Pakistani president Asif Ali Zardari said that Malala "represents the forces of peace" in his country. The UN has announced that November 10 will be marked as Malala Day.

Aung San Suu Kyi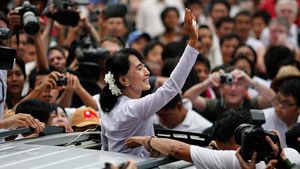 Aung San Suu Kyi's prominent activism over the last three decades has already seen her awarded with many prestigious international accolades including the Nobel Peace prize (1991) and the European Parliament's Sakharov Prize for Freedom of Thought (1990).

In May 2012 she took her oath as a member of the lower house of Myanmar's parliament, where she is now the official Leader of the Opposition after a 24-year battle to promote democracy in one of the world's repressive regimes. Between 1989 and 2010 she spent a total of 15 years under house arrest for her activism. But this year her dedication to the cause has begun to bear fruit. Barack Obama became the first sitting US president to visit Myanmar, formally Burma. Burmese authorities have released dozens of political prisoners this year, while both the EU and the United States have suspended or eased economic sanctions on the country while urging the pace of reforms to continue.
Felix Baumgartner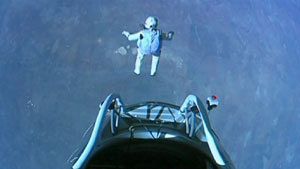 Austrian skydiver Felix Baumgartner jumped into the history books on October 14, when he leapt from a helium balloon floating 38.6 kilometres above Terra Firma in the Earth's stratosphere.

His remarkable feat broke several records: reaching a velocity of 1,342km/h and Mach 1.24, he became the first skydiver to break the speed of sound. His freefall, which at four minutes and 20 seconds lasted around half the duration of the entire jump, was the largest distance ever achieved without a parachute.

An unprecedented number of people – around eight million – watched the event live on Youtube.

NASA's Curiosity Rover team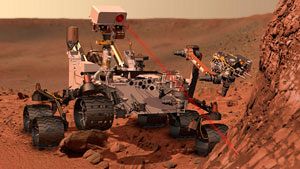 "We are landing a ton, a ton of vehicle – it weighs 900kg – on the surface of another planet, hundreds of millions of miles away. That is a really hard thing to do." While those words rank among the understatements of the year, NASA's Matt Heverly certainly never underestimated the challenges that NASA's Mars Science Laboratory team faced in landing the unmanned Curiosity Rover on Mars.

First, after an eight-and-a-half-month voyage towards the Red Planet, the Rover was parachuted down from around 11 kilometres above Mars' surface. With fewer than two kilometres to go until landing, the Rover's pod shed its parachute (which otherwise could get in the way on touchdown) before downward facing rocket boosters were deployed to slow the Rover's descent to a manageable speed. Then at 20 metres, to prevent the rocket boosters getting too close to the surface and created a potentially damaging dustcloud, the pod lowered the Rover down with a harness before shooting off to crash land somewhere safe.

Much could have gone wrong but the mission was a resounding success, allowing the Curiosity Rover to examine Mars and check for signs of organic Martian life.

Pussy Riot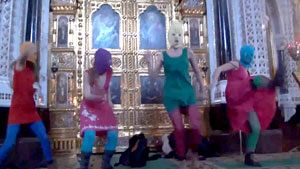 When five balaclava-clad members of the Russian feminist punk band Pussy Riot burst into a Moscow church in February and performed a song in protest at the Russian Orthodox Church's support for President Vladimir Putin, they will have hoped for considerable publicity in their own country. What they perhaps did not count on was becoming a global cause célèbre.

By the time three of the group were given two-year prison sentences for hooliganism in August (one, Yekaterina Samutsevich, was later freed on appeal), they had received words of support from dozens of musicians such as Madonna and Paul McCartney as well as the likes of Burmese democracy activist Aung San Suu Kyi. Amnesty International described them as "prisoners of conscience", while demonstrations in support of Pussy Riot's right to free speech were held in countries across the globe.

The provocative stunt left Russian public opinion divided; while even former Soviet leader Mikhail Gorbachev criticised a "pointless" trial, many members of the Russian public – particularly those among the Orthodox faithful – believe that jail was an appropriate punishment for such behaviour. For right or for wrong, the "punk prayer protest" certainly put the spotlight on the issue of free speech and political dissent in Russia once again led by Vladimir Putin.

Barack Obama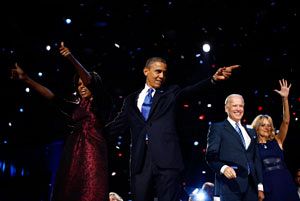 While high unemployment and slow growth cost the jobs of several European prime ministers and presidents (Berlusconi, Brown, Sarkozy…), Barack Obama was one of the few world leaders to survive the global economic crisis. In November he was re-elected by what proved to be a comfortable margin: 332 electoral college votes to his rival Mitt Romney's 206.

When first elected to the White House in 2008, Obama was riding on a wave of hope and desire for change after George W. Bush's controversial period in office. Four years later, he faced stubbornly high unemployment, a static economy, an opponent for whom money seemed no object and criticism from even his own supporters that he had not achieved what he had promised. But the skill of Obama and those aiding him in his campaign got enough of his supporters out to vote in the key battleground states and counties to earn him another four years as US president.

Lionel Messi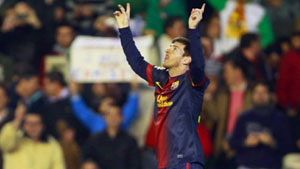 The Argentine footballer has scored more goals for club and country than any other player in a calendar year, breaking a 40-year-old record set by Gerd Mueller and reinforcing the claim of those who believe him to be the best in the history of the sport. In 2012, Messi also became the first player to score five goals in a single Champions League match, Barcelona's top all-time goal-scorer and the player with the most goals in a single European season. On two occasions this year he has scored four goals in one game and can add to that six hat-tricks in 2012. In January he was also awarded FIFA's Ballon d'Or for the third time.

The 25-year-old's club FC Barcelona has not enjoyed the same success as their star player, having won only the Spanish cup (Copa del Rey). To return to domestic and European dominance in 2013 the Catalan giants will be relying heavily on Messi who scored almost half of Barca's goals in 2012 (48%).
PSY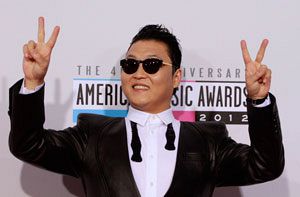 The virality of the internet makes for some unlikely superstars and South Korean singer/songwriter PSY is certainly among them. Unknown outside of Asia before the summer, his song Gangnam Style has been viewed almost a billion times (930 million as of 11.12.12) on Youtube since its release in July. That makes it the most viewed video ever on Youtube.

Psy (who will be 35 on New Year's Eve and whose real name is Park Jae-sang) has since been awarded various cultural honours in South Korea and MTV Europe prizes while Gangnam Style, named after a suburb of his native Seoul, has been the subject of hundreds of parodies and remixes.

Such exposure led to the Secretary General of the United Nations, Ban Ki-moon, to urge him "I hope that we can work together using your global reach" when the pair met at the UN headquarters in New York.