Dubai Airshow opens with a mega contract for Boeing
Comments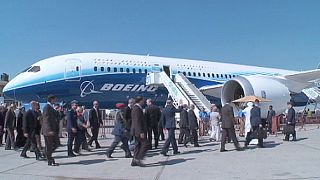 Day one of this year's Dubai Airshow and there's already been a record breaking order made. Emirates airline has signed up for 50 of Boeings 777 jetliners worth around 13 billion euros.
They've also placed an option for a further 20 aircraft.
Boeing Vice-President, Randy Tinseth said: " This makes it the largest single order in terms of value in Boeing's commercial airplane history. With this order, it is a record year for the 777 with more than one hundred orders."
The planes should be in operation for Emirates by 2015, backing up intentions to make the Gulf region a major East-West hub.
Euronews correspondent Francois Chignac, said:" With the signing of this historic contract Boeing have made their presence felt on the opening day of the show. It's perhaps provided a chance to forget the turbulence striking both American and European economies.