Punggol eco-town - Building energy efficiency
Comments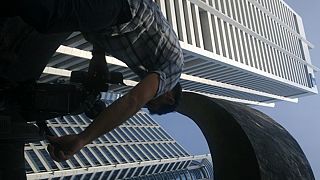 Today we headed to the north of Singapore to see some sustainable housing projects- so far north in fact that our mobile phones told us "Welcome to Malaysia", the neighbouring country just visible through the humid haze across the water. This part of Singapore is only 30 minutes from the hustle and bustle of Orchard Road, and the rate of development here is so rapid that the Punggol eco-town project we were visiting wasn't even on our maps and GPS systems.
At first sight the row of white towers doesn't look very 'eco' – concrete blocks never do – but we actually found that there are some subtle yet progressive differences compared to the energy hungry apartments nearer the city centre. For one thing the residents here aren't wedded to their air-conditioning systems, and instead we had the refreshing sight and sound of people living side by side with their windows open and fans spinning, instead of sealed inside an artificially cooled interior. The blocks are oriented away from the sun and towards the prevailing wind from the north-east.
Up on the roof there are more subtle eco-innovations in place. A layer of flag stones – what's known as secondary roofing – sits above the roof, with open supports below allowing airflow. This is basically a heat shield that keeps the run from overheating the tops of the buildings, while allowing air to cool the real surface of the roof. And all around the rooftop were square plastic tubs of plants, fitted together in a neat tessellated pattern. These plants are part of the Housing Development Board's strategy to develop passive cooling technologies for their apartment blocks. Once in place the plants can have a significant ambient cooling effect, reducing the temperature by several degrees and cutting the 'urban heat island' effect. The government agency is testing different plants to see which fare best in this rooftop world, and will then roll them out across a high proportion of building stock. It's a simple and effective approach, nothing radically new, but probably one of the most cost-effective retrofitted sustainability measures a building manager could introduce.
Shopping and skylines
Our mission for the afternoon and evening is to gather nice illustrative shots of Singapore for our stories, and so we head for the busy shopping street of Orchard Road to take some crowd shots. Shopping is close to a religion in Singapore, with stores open from 10am to 10pm, and the streets often busy even on weekdays. Those who practice the credit card faith have a huge selection of luxury European luxury brands and great variety of buzzing food courts to choose from.
We set up the camera near the Ion centre, a cavernous new shopping mall on the intersection of two busy roads. The crowds were there in force, and so we settled down to a series of timelapse shots, before pausing for an ice cream. With Singapore's hot and humid climate, eating icecream is a little like a speed-eating contest, as you race through your pistachio before it melts onto the road. No hardship of course, but it seems rather dramatic at the time!
As the clock rolled around to 6pm we headed down to the 1 Altitude bar, Singapore's most lofty watering hole, perched at 272 metres above the country's highest sky-scraper. The aim was to take some nice sunset footage across the city, and then film the city from above at night. Down at Marina Bay there were preparations underway for national day celebrations, and so we were treated to a military fly-by and a short fireworks display. Despite a little tension as I edged closer to the glass screens surrounding the bar – I'm afraid of heights, but I'm trying to deal with it – it was a wonderful view, and a brilliant place for a gin and tonic once we'd wrapped up the day.
A bag for your bag, sir?
This struck me as a funny innovation in Singapore. In certain restaurants a folding canvas bag is provided for people to keep their handbags in. The idea is that it prevents your expensive designer leatherwork from being damaged by dirt and dust from the floor. I'm not sure my old cycle-courier bag is worth that kind of special treatment!
The view from above
A nice snap of the production crew for Tomorrow's City. From left to right: Cameraman Fabian Welther, Fixer Asha Popatlal, and Euronews producer Jeremy Wilks. Behind is the spectacular rooftop view from the One Altitude bar in downtown Singapore.
Looking down on Marina Bay
Sunday down on the beach
As we had evening flights back home we decided to go to the beach this afternoon for lunch and a little paddle in the sea. The shooting is all done, so there was nothing left to do but chill out and enjoy Singapore on Sunday. Although the shops are still open, there is a different feeling to Sundays, and down on the East Coast Parkway we found out why. This thin strip of beaches, parkland, restaurants, and bike tracks is about as scruffy as Singapore gets, with a laid-back atmosphere and crowds of locals hanging out in the sun. This is where the action is on the weekend, and that means picnics, lazing about at beachfront bars, riding bikes or rollerblading. It was refreshing to see this family-focused side to the country, which is so often bound up in business and commerce.
Mind you, the signs of Singapore's trading success are still very much present, even on a sandy Sunday afternoon. Out to sea you can see plenty of evidence of Singapore the dynamic trading hub, as dozens of shipping vessels of all shapes and sizes are anchored out in the straits, waiting their turn to come in to port and offload or reload. No wonder you can buy almost every product imaginable here – almost every product imaginable passes right past the port every day.
Back to Europe, and a strong espresso
After an overnight trip back to Paris from Singapore, the one thing I'm very glad to find is a good quality European espresso. Coffee in Singapore is a little too 'American' for my taste, so it's nice to find something small, dark, and very strong.
Charles de Gaulle airport: great to look at, but tough to navigate, especially after a long-haul flight.