Singapore Blog 2 - Talking innovation with Chairman Lim
Comments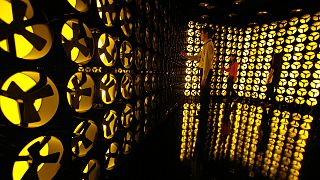 We spoke to the Chairman of Singapore's national research and development organisation A*Star today. Chairman Lim is a very likeable character, and a huge enthusiast of the results the science collaboration projects he oversees have produced.
We interviewed him at Fusionworld, A*Star's high-tech playground that showcases some of their far out and wacky developments, including a wall of cooling fans that rotate as you pass by, a hologram hostess beaming new inventions down from her pedestal, some smooth plastic motorcycles equipped with virtual reality goggles and most fun of all, the computer generated dancing partners in a futuristic disco that mimic your moves on the floor.
A*Star is at Singapore's science and research hub, known as Fusionopolis, where the aim is to bring together big companies, such as Spanish windturbine maker Gamesa or consumer goods giant Proctor and Gamble, and place their research centres side by side with state and university labs – the idea being that each will feed off each other, and the results will be both thoroughly tested and highly marketable as a result. We chose to focus on HP Labs' research into cloud computing, and Thales' research into communications equipment for security forces and emergency services – both of which you can see in our programme.
Chairman Lim's message was that cross-cultural collaboration, cross-sector collaboration and public-private partnerships were a very important new trend in how innovative new developments will emerge in the future, and that Singapore's pro-business administrative environment made it a perfect candidate for companies seeking to set up a base to exploit growing markets in India and China. That message has been echoed by our other interviewees, and it's clear that the island state is very keen to make sure it stays abreast of the competition in this part of the world.
You need a head for heights to be a cameraman. This is the skywalk gallery at R&D centre Fusionopolis.