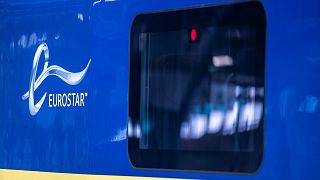 -
Copyright

BELGA via Reuters Connect
Hundreds of seats on Eurostar trains between London and Paris are going empty because of Brexit and understaffing.
The company's chief executive Gwedoline Cazenave said that post-Brexit border checks were leading to "bottlenecks in stations".
It has forced the company to cap ticket sales between the two capital cities to avoid long queues and delays.
How has Brexit caused problems for Eurostar?
Post-Brexit border controls mean all passengers have to have their passports stamped - even when using eGates.
But a lack of border staff to carry out these checks is a problem. The time it takes to process passengers leaving from London's St Pancras station has increased by 30 per cent due to the COVID-19 pandemic and Brexit.
If the first services of the day don't leave on time, it can cause unmanageable delays throughout the rest of the day.
"If you delay the first train, then you delay the second and then it's a very bad customer experience," Cazenave said.
The first train of the day between London and Paris has the capacity to carry 900 passengers. Eurostar is having to cap ticket sales at 550, meaning 350 seats are going unsold.
Cramped conditions at Amsterdam Centraal station mean the problem there is even worse. Only around 200 passengers can be processed before departure on services to London.
Passengers are being advised to arrive 90 minutes before their train departs - three times longer than before the pandemic - to allow enough time to get through passport control.
No new Eurostar routes until border delays are fixed
Cazenave explained that the problems are also preventing the operator from restarting services that were previously suspended - including ski routes from London to the Alps.
"As long as we are not able to operate as well as possible from a customer experience standpoint in London and Paris, why should we go to Bourg-Saint-Maurice 10 times a year?" she said.
The company's main focus, she added, was fixing this major issue before considering what it does in the future for these kinds of destinations.
Cazenave's comments came as Eurostar announced its new branding after a merger with French-Belgian high-speed train operator Thalys, saying it hopes to carry 30 million passengers a year by 2030.