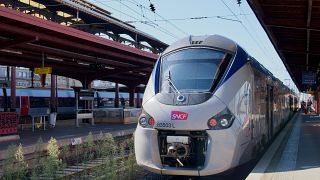 -
Copyright

Antoine Schibler
France's national rail network has increased train fares for 2023.
This week, it announced a hike in ticket prices with many routes affected.
But it also launched a flash sale giving travellers a brief chance to book budget fares.
Here's everything you need to know about rail prices in France this year.
France increases cost of train fares
France's national rail service, SNCF, has increased train fares for 2023.
Ticket prices have gone up by around five per cent across the board.
Many fare types have been affected apart from some seasonal tickets and low cost services.
The rail network announced a decision to raise prices last November because of the increase in energy costs.
Christophe Fanichet, CEO of SNCF Voyageurs, said the company was "facing additional costs of 13 per cent in 2023."
He also said its electricity bills had gone up by 180 per cent.
Which train tickets in France will be more expensive this year?
The main tickets that are affected by the price increase will be 'maximum fares' - journeys booked at the last minute.
'Business Premiere' tickets have also risen by around five per cent along with prices for TGV and Intercity trains.
The exact price increase may vary because the changes in cost will be made using 'yield management', a marketing technique that alters fares according to demand and timing.
Some fares have been spared from the price increases, however.
SNCF has not raised the ticket price of Ouigo trains - the company's low cost service.
Some discount cards will also not change extra, such as the Carte Avantage which will remain at €49.
Furthermore, the minimum prices that apply at the start of ticket sales will not change.
The rail operator says this aims to shield lower income customers from unaffordable price hikes.
France launches train ticket sale
The increased rail fare pricing came into effect on Monday. But the national rail operator also announced a flash sale at the same time.
The sale, called 'Connect Days', offers discounts on low price tickets via SNCF's website.
On 10 and 11 January, travellers can purchase discounted tickets for Ouigo trains.
Journeys between Paris and other cities will be capped at €19 for the month of January.