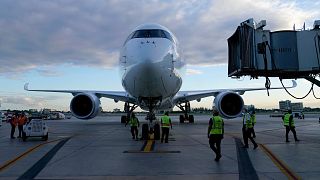 -
Copyright

Lynne Sladky/AP Photo
Please note this article is out of date. Euronews' latest coverage of the Ukraine crisis is available here.
Ukraine has closed its airspace as the country is declared a conflict zone.
Earlier this week, there was a string of flight cancellations leading up to the news. Germany's airline Lufthansa said it was halting flights to Ukraine from Monday, joining KLM which has already done so. Lufthansa's suspension is expected to remain in place until the end of February.
"The safety of our passengers and crew members is our top priority at all times," a spokesperson from the German airline said.
Scandinavian company SAS also suspended weekly flights while Air France has decided to cancel Tuesday flights between Paris and Kyiv as a "precautionary measure".
Ryanair, the biggest airline to fly between Europe and Ukraine, has suspended all Ukraine flights for 14 days.
The flight suspensions come as UK Prime Minister Boris Johnson warned on Sunday that Russia is planning "the biggest war in Europe since 1945".
Diplomatic efforts to avoid conflict
The exodus came after two Ukrainian airlines disclosed problems in securing insurance for some of their flights as Russia masses a huge military force on its border.
Russia and Ukraine both hinted at fresh diplomatic efforts to avoid conflict on Monday, but Ukraine's biggest airline said its insurers had already terminated cover for at least some of its aircraft on flights inside Ukrainian airspace.