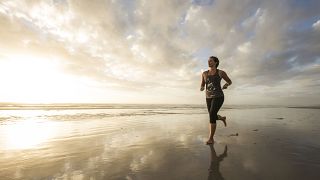 -
Welcome to Euronews Travel's Women Beyond Borders, the series which brings you real life accounts from women around the world who are living brave, adventurous lives, and conquering personal challenges on the road. These women live for travel and adventure.
While some are crossing the world in pursuit of the most unique experiences, or pursuing a lifestyle that many would dream of, others are breaking the mould of traditionally male-dominated industries. We want our series to inspire you to believe in the power of your own dreams.
WARNING: Rape, sexual violence and assault
It was while Claire McFarlane was living in Paris, France, as a student in 1999 that she was brutally raped, assaulted and left for dead. After 16 years of battling injustices through the legal system, Claire has completely transformed this life-altering experience to raise awareness of sexual violence and assault around the world.
Footsteps to Inspire is a global, totally inclusive and first-of-its-kind initiative designed to raise awareness and give women, men and children the opportunity to share their stories and connect with others through their experiences.
In 2016, Claire decided to start these conversations on a global scale by running 16 kilometres of beach in every country in the world. Since she started, hundreds of people have joined her Footsteps to Inspire runs.
What motivates Claire to keep going?
In her own words, Claire explains, "Nothing about Footsteps To Inspire is easy. Everyday I hear stories of horror, and sometimes stories of hope. What keeps me going is the knowledge that I'm changing lives."
"I get to choose how I let my trauma impact my life. Either we see it as a lifetime of suffering or I move through it and it becomes something else. It becomes something that makes me stronger. It becomes something that I can now use to help heal the world."
Press play on the video above to find out more about Claire's incredible life.