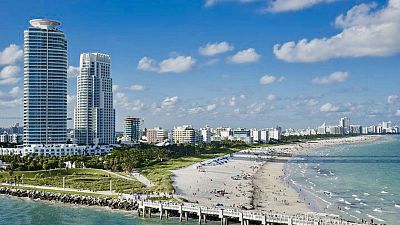 Famed for its Cuban influences, trendy nightclubs, fresh seafood, beachside resorts, and the colorful art deco buildings scattered around town, South Beach well deserves its reputation as a glamorous Miami paradise, but, look a little deeper and you'll discover there is so much more to this large metropolis
A Hotel
When looking for your ideal hotel spot, it's best to decide which area of Miami suits you best. Are you here for the party scene? Are you looking to enjoy a classic tourist holiday at the newly opened, totally hip Edition hotel? Or are you wanting to discover other amazing local treasures, such as Aventura or Bal Harbour, the renowned open-air luxury mall lined with exclusive shops and restaurants?
Personally, love South Beach for its dining adventures and dance scene. While the big hotels can offer you a lot in terms of first impressions, there are many boutique hotels, like Soho House, that deserve your consideration, especially if you are looking to enjoy the sun while meeting some of the world's most interesting artists. By far, my favourite spot is Key Biscayne island. Its remote-feeling locale combined with a local vibe and gorgeous white sandy beach, make it hard to beat. But, if food is what you're after, the St Regis hotel's Sunday brunch is phenomenal and, as a bonus, you'll love spending the evening at the Mexican restaurant situated directly on the beach. Just a few minutes at its fire pit after dinner will leave you feeling like you've officially arrived in the Caribbean.
For locals, Brickell is the hotspot. Its trendy Epic hotel, which offers classic brands such as Zuma directly inside, will give you very few reasons why you need to leave. One look at the roof pool and its impressive views of the bay and you'll be officially sold. you can easily spend your entire trip in this one area. Head across river to Ciprianni for yummy Italian cuisine. Be sure to not overlook their tall ceilings, which will make you feel like you're on a luxury cruise. And, if you love to golf, try Fisher Island Resort, an exclusive locals-only spot that is only accessible by ferry.
Want dancing and dining? The Faena hotel offers live music dance shows as entertainment while you dine. The bar next door features a sexy, red velvet, Cavalli-style motif, the perfect backdrop for tastebud-satisfying cocktails.
A Restaurant
Every South Beach pilgrimage requires a visit to Joe's Stone Crab. Luckily for you, there's now a cafe next door, which means you can avoid the lengthy lines while still satisfying your hunger by grabbing a quick bite. Their salad bar is tempting, complete with a hearty selection of eight soups, including clam and crab chowder. Of course, there's more than just seafood at this joint, so don't miss it even if crab isn't your thing.
Because of the vibrant cultural scene, Cuban, Mexican and South American foods are in abundance here. I especially love Garcia's. Located on the river with a view of the boats heading out to sea, you can enjoy stone crabs at a more affordable price or taste seafood and Cuban cuisine in a casual setting. You'll find their waiters are very friendly, which adds to the relaxed vibe I recommend trying the drunken fried fish and platanos. While soup might feel like too hot of a choice during the day, you won't regret trying the succulentfish soup.
A Sight
If you're looking for a healthy dose of Florida art, food, and design, you can't go wrong with a stop to the vibrant design district. An open themed area filled with creative shops and health-oriented culinary spots, come at sunset for a truly breathtaking experience.
I try to venture out to the Smith & Wollenskys on the water for a sundowner, followed by a slow stroll on the beach.
Pop into News Cafe on ocean drive, make a point to visit with friends (or make new ones) here. If you bring or rent a bike, there are many trails to discover. If you're lucky, you might catch a glimpse of a manatee in the waters. Boating life is more than just popular,so rent a jet ski to explore the inter-coastal and ride up to Houston's or even all the way to Fort Lauderdale.
A Purchase
On this visit to South Beach I discovered the Museum of Ice Cream, satisfying my visual sweet tooth with its now Instagram-famous bubble gum pink decor. It's just the thing to make you feel like a kid again. To actually satisfy your sweet tooth, try the creative colourful milkshakes, fruity desserts, and candies. (And, of course, don't forget to buy gifts to take home.) You know that room in Willy Wonka and the Chocolate Factory, the one so vivid and magical that you think it could only exist on screen? The Museum of Ice Cream is that room. Still not convinced? Take a swim in the sprinkle pool for fun and see how you feel when you come out.
By Natalie Lefevre
Please follow me on Instagram : @island_natalie