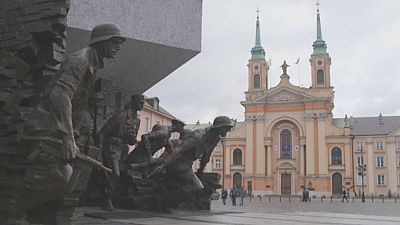 Warsaw, Poland's capital is a city of energy. It vibrates to the rhythm of the economic boom which has accelerated since joining the European Union in 2004.
Krystian Cieslak works for Ifinity a start-up that has developed an app which helps the visually impaired to navigate in an urban setting and visit public offices. Five hundred sensors are set in public spaces and send information to mobile phones.
Pawel who is visually impaired finds it very useful to get around Warsaw.
"I think the descriptions are very informative, the informations about the directions, where to go. In a broad sense it's very useful," he said.
Ifinity has been nominated as the best Polish start up this year. The company's app, unique in the world is also available in Doha, Helsinki, Birmingham and Istanbul.
As a sign of Warsaw's appeal, a former vodka company hosted the final Google Campus, an incubator for start-ups which was opened in mid-November after ones in London, Tel Aviv, Madrid and Seoul.
Forbes recently named Warsaw as the third favorite city in the world for start ups.
"We believe that by such publication, such announcement, we are starting to set a very important message for abroad that Warsaw has become a very serious player in the market for start-ups," opined Michal Olszewski, Warsaw deputy mayor.
Warsaw was nicknamed "Paris of the North" before the war. Now one area is like the Phoenix which has risen from the ashes. Because the old city has been totally rebuilt in the same style. During the war 85 percent of the city was destroyed.
Memories are on view: the 1944 uprising,….. Prozna street, the last street of the ghetto. Before being exterminated by the Nazis, the Jewish community in Poland was the biggest in Europe. After 70 years, Warsaw built a Jewish museum.
Another face of the capital city reflects the communist ideology.
"Architects, planners, fathers of the city used the destruction as an opportunity to create a better city, with better living conditions. With more public spaces, more greenery, better house conditions. And Plac Konstytucji (Constitution square), is an example of this post-war planning.
'Post-war architecture is being more and more liked by the people of Warsaw, and the palace of culture and science is a very good example. It has been the most hated monument of Warsaw, a symbol of Soviet oppression, but 60 years on it's already a part of the cityscape," concluded architect Grzegorz Piatek.