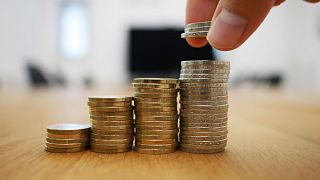 As high inflation bites into paycheques and squeezes household budgets, many people are turning to money management apps to keep a close eye on their finances.
Having a clearer view of your expenses will help you cut down on non-essential spending. While it's challenging to reduce the rent you pay, you do have more control over how much you spend on dining out, movies, or subscriptions you may have had even forgotten about.
"To think that you can keep the same habits when prices are rising so much is at best naive and at worst financial 'suicide' because your savings will suffer," says Paula Cay, who wrote a book in French on how to effortlessly manage a budget, and has a popular Instagram account on the same topic.
Trying to keep a financial safety net should be a priority as inflation will make unforeseen expenses more costly, she told Euronews Next.
However, there is no need to scrutinise your expenses daily.
"I would advise people with modest incomes to review their budget once a trimester, and more well-off people to review it twice a year to make adjustments if necessary," Cay added.
So, what are the most popular money management apps out there? Here are some tips.
Use your banking app
The simplest tool to keep track of your budget may be one you already have - but perhaps don't make full use of.
Many banks have a service that allows you to view your expenses almost in real time because the data is directly linked to your means of payment.
Another advantage is that you can easily use the same banking app to transfer money to a savings account. However, this option will not be sufficient if your accounts and means of payment are spread out between different banks.
The best apps to track your finances: Emma or Money Dashboard (Mint for the US)
Both received Financial Conduct Authority (FCA) approval, and Money Dashboard received the award for Best Personal Finance App two years in a row. They have user-friendly interfaces that can give you a comprehensive overview of your expenses as they cover several hundred banks.
Both apps allow you to scrutinise your expenses by category and offer budgeting tools such as visualising upcoming payments or setting budget targets.
While Money Dashboard is entirely free, Emma relies on a freemium model (a free basic plan with paid options). But Emma is the only app to offer a cashback option i.e. discounts at partner stores if you opt for the premium subscription.
More than budget-tracking apps, these are neobanks. They allow you to visualise the data from several bank accounts all in one place, sort your expenses by category, but also transfer money, get a free bank card and make transfers.
One of the biggest advantages of a neobank is the ability to pay in different currencies and countries without fees. It also allows you to keep an eye on your spending even when travelling, when you may be tempted to spend lavishly.
The best for multiple people: Tricount
Whether it's for holidays with friends, a joint gift or just living as a couple, spending money together can easily become a financial headache.
There is an app for this too: Tricount, which does the accounting for your group expenses.
Here's how it works: people enter what they've contributed, and Tricount calculates the balance for each participant and figures out the best way to settle up.
No more lengthy calculations and oversights, Tricount shows to the penny who owes how much to whom.