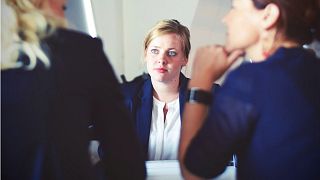 -
The pandemic-led boom that boosted tech companies and their valuations has now turned into a bust in the face of decades-high inflation and rapidly rising interest rates.
One of the big news stories in recent months has been Elon Musk's takeover of Twitter and mass layoffs at the social platform. But Twitter isn't the only tech company making drastic changes to its staffing as fears of a looming recession continue into the new year.
Big Tech companies have been announcing massive job cuts and hiring freezes - most recently Google, which said on Friday it would be cutting its workforce by 6 per cent - or 12,000 jobs. 
Other household names include Microsoft, Meta, Apple and Amazon.
Why are so many tech companies cutting back on staff?
When it comes to careers, tech has long been advertised as a safe bet in job security.
Fast-moving days and fluid when it comes to choice, it can undoubtedly be a stressful working environment - but the pay is generally good and, ultimately, the world will always need people who can work in tech.
So it seems strange that in 2023, the era of the James Webb Telescope and robots that can interact like actual humans, so many companies across the sector are making cuts and instigating hiring freezes.
The reason? Unfortunately, the same reason we're seeing this trend across the board in business right now.
High interest rates and the cost of living crisis means consumers are spending less money. That, in turn, impacts the revenue of these companies. Less revenue means businesses need to cut costs.
The tech sector, however, grew exceptionally quickly over the last several years due to increased demand, as employees began to work remotely. But as pandemic lockdowns ended and people started going outside again, revenue growth began to falter.
The key tech companies announcing layoffs and hiring freezes
Meta
For the first time in its history, social media giant Meta announced in November that it would lay off 11,000 workers, or roughly 13 per cent of its staff. This marked one of the biggest tech layoffs of 2022, as the company grappled with a weak advertising market and mounting costs.
The company will make reductions in all of its businesses (such as WhatsApp, Facebook, and Instagram), said CEO Mark Zuckerberg. Meta is also prolonging its hiring freeze through to the first quarter of this year, with a few exceptions.
Twitter
Elon Musk also began staff layoffs in November. Since then, the company has laid off over half its workforce, and further redundancies are reportedly on the cards.
Several privacy and compliance officers have also quit, as well as the company's trust and safety leader.
Amazon
The e-commerce giant has halted "new incremental" hiring across its workforce. 
Following a months-long review, Amazon told employees in some unprofitable units to look for jobs elsewhere in the company, the Wall Street Journal reported in November.
It is also moving to redeploy staff from certain teams to more profitable areas, and closing teams in areas such as robotics and retail.
On December 2, it was reported that Amazon was making major cuts to its hardware team, with those working on Alexa, Kindle, and Halo at highest risk.
It's believed that investors in the e-commerce giant want to make further job cuts soon, with Bloomberg reporting there's a new round of job cuts coming that will affect 18,000 staff members.
Apple
Apple has "paused almost all hiring," a decision that could last until later this year. 
Earlier this month, around 50 employees on its Next Apple News team lost their jobs, with the company citing continuous losses.
Microsoft
Towards the end of last year, Microsoft set the ball rolling and cut about 1,000 jobs. 
On Wednesday (January 18), the software giant Microsoft said it would cull 10,000 jobs, or approximately 5 per cent of its workforce, in response to "macroeconomic conditions and changing customer priorities".