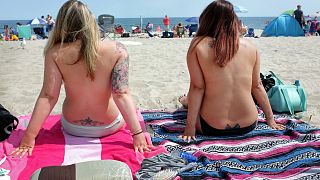 Over a decade after the "Free the Nipple" campaign began, Meta's independent Oversight Board has decided that the platform's strict rules against women's bare nipples impede freedom of expression across Facebook and Instagram.
The board, which includes academics, rights experts and lawyers and advises the company on its content-moderation policies, said that the ban hindered inclusivity on the platforms, especially for women, intersex, non-binary and transgender people.
It described the platform's adult nudity policy as "discriminatory" and advised Meta to change it "so that it is governed by clear criteria that respect international human rights standards".
The ruling comes after the board overturned Meta's decision to remove two Instagram posts featuring transgender and non-binary people with bare chests.
What is the 'Free the Nipple' campaign?
Until now, Meta has operated a strict policy on the exposure of women's nipples - even breastfeeding mothers have historically had their content censored.
This caused an uproar as early as 2012, when a film was released covering the topic and led to protests demanding the right for women to bare their breasts on social media if they so choose.
Since then, exceptions have been introduced for breastfeeding, birth-giving and after-birth moments, health-related situations (for example, post-mastectomy, breast cancer awareness or gender confirmation surgery) or acts of protest.
One consistent point of contention is that the platforms often allow hate speech to go uncensored, while female nipples are barred.
In 2018, CEO Mark Zuckerburg tried to justify this by explaining, "It's easier to build an AI system to detect a nipple than what is hate speech."
In the same conference call, Facebook's head of global policy management Monika Bickert explained the stance on nipples has actually to do with consent and the platform's inability to identify non-consensual content.
In April of that year, Facebook released its first-ever internal guidelines for content moderators, which outlined how the platform's nudity standards are rooted in user safety and avoiding exploitation.
So why has the Oversight Board changed its mind?
Meta's Oversight Board argued that the existing policy is based on a binary view of gender and a distinction between male and female bodies.
"Such an approach makes it unclear how
 the rules apply to intersex, non-binary and transgender people, and requires reviewers to make rapid and subjective assessments of sex and gender, which is not practical when moderating content at scale," the board said in its decision on Tuesday.
It added that Meta's rules on adult nudity "pose disproportionate restrictions on some types of content and expression" when less restrictive measures could be effective, such as warning screens and age-gating content to only permit users over the age of 18 to view it.