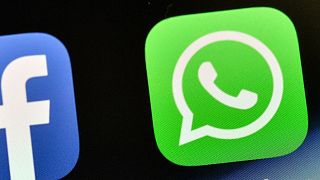 -
Copyright

Martin Meissner/AP
By Euronews with AP & Reuters
WhatsApp said service on the popular chat app has been restored after a brief outage on Tuesday left people around the world complaining that they couldn't send or receive messages.
According to Downdetector, which tracks outage reports, people started reporting problems around 9 am CET. About two hours later, users started posting online that WhatsApp was back to normal.
"We know people had trouble sending messages on WhatsApp today. We have fixed the issue and apologise for any inconvenience," said a spokesperson for Meta, WhatsApp's parent company.
The company did not disclose the reason for the outage.
A message had earlier been appearing for many users at the top of the app, saying it was "connecting" but then failing to do so.
Downdetector, which tracks outage reports, said more than 65,000 reports of problems had been submitted by 09:30 am CET in the UK alone, nearly 10,000 in France, and more than 25,000 in India. 
Downdetector tracks outages by collating status reports from a number of sources including user-submitted errors on its platform. The outage may have affected a larger number of users.
Meta, previously known as Facebook, bought WhatsApp in 2014. It's wildly popular especially outside of the United States, where many people use it for everyday communication.
When the app had an hours-long outage last October, it hit trading of assets from cryptocurrencies to oil, before traders switched to alternative platforms such as Telegram.
This latest outage comes during the festive season in India - its biggest market by user count - when people use the platform even more than usual to send season's greetings.
On Tuesday morning, #whatsappdown was trending on Twitter, with more than 140,000 tweets and hundreds of memes flooding the internet.
In the past, rival apps like Telegram, Snap or even Meta's Instagram have seen temporary spikes in users when WhatsApp has been down.
While WhatsApp boasts over two billion monthly active users and has become a mainstay for messaging in most countries, Telegram has taken up the challenger role with about 700 million users.