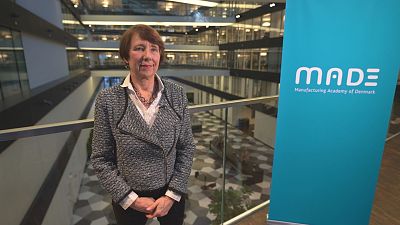 Business Planet looks at the EU project helping firms to transform and embrace green and digital tech.
Green and digital transformation were redefining industry well before COVID-19 came on the scene. What the pandemic has done is dramatically accelerate the process. The crisis has also shown businesses can move incredibly quickly when pushed, especially when it comes to adopting new technology. Once lockdowns are lifted and the economy eventually begins to recover, that ability to adapt will be vitally important and is likely to decide the winners and losers in the post-corona world.
It is the reason why helping companies bridge this technological transformation has become such a big priority for the European Union and central to its latest industrial strategy. The European Advanced Manufacturing support centre, or ADMA, is one element of that. It seeks to guide firms so they can be part of the technological shift and develop into what are known as 'factories of the future'.
To find out more about the ADMA project, Business Planet spoke to Merete Nørby from the Manufacturing Academy of Denmark.
What exactly is the European Advanced Manufacturing Support Centre?
"The European Advanced Manufacturing Support Centre, is an EU initiative aiming to help small and medium-sized companies, the so-called SMEs, to become factories of the future. We go for the SMEs that have already shown that they know they have challenges. They know they must do something and have taken some kind of active step to act to solve the challenges."
Green and digital transformation is now a big priority for a lot of companies, why is that?
"Advanced manufacturing has been around for years. Having technology as the solution is not new in any way. But now with digital technologies, you have a chance to link the different areas in the production and make sure that you collect data and then use the data so that it is not stand-alone areas but one whole system. In my opinion, the green actually links very nicely to this, because 20, 25 years ago we were already saying that we need to do something. Sustainability is not a new word, but there would always be an argument saying we cannot afford it. It's too expensive. Now we have technologies that actually help us. So going green is going hand in hand with efficiency goals. It is not only modern to be green, it's also a very cost-effective opinion to have."
What are the opportunities for companies that are willing to successfully embrace this green and digital transformation?
"There are so many opportunities. There are so many programmes wanting to assist and help. So EU initiatives and national initiatives, they are begging companies to apply. So in my opinion, companies should step up, look at their own strategy, make sure that they know where they are coming from, where they want to go, and then join a platform, join a group, be part of a proposal, because it's when you meet other companies that want to go digital and green, that you are challenged in your own ideas and that you can actually improve. So go out, join them."